Yesterday was a pretty busy evening. Two out of five of us had dentist appointments. Early in the day I decided to just make
Hot & Sour Soup
for dinner. With dentist appointments and kids homework I wanted to be done by 8pm... House & 24 are on Monday nights and that's must see TV for me... so this wicked fast and easy soup would be perfect.
Somehow later in the day, I started thinking about Crag Rangoon. I bought some wonton wrappers that were on sale because they were approaching their expiration date. That date was yesterday. Sure, I could have thrown them into the freezer, but Crab Rangoon kept creeping into my mind. Plus... it would go with the Hot & Sour Soup.
So then I was wondering... best case scenario, if I can be home by 6pm, can I be done by 8pm??
YES!! (JUST by 8pm!)
I've never made Crab Rangoon before and had been looking at recipes online. What I ended up with was adapted from this
recipe
at RecipeZaar.
Crab Rangoon
1 8oz block cream cheese, room temperature
1 heaping TBLS sour cream
1 7oz package imitation crab
2 green onions, sliced thin, just the green part
1 large clove garlic, grated
1 1/2 in gingerroot, grated
1 TBLS soy sauce
1 package wonton wrappers
oil for frying
Mix all ingredients together, except wonton wrappers & oil.
For the standard Crab Rangoon shape, put about a teaspoon of filling into the center of a wonton wrapper and fold it into a triangle shape. With a moistened finger tip, seal the wrapper completely around the filling. Be sure there is no air left inside, or they will puff up when you fry them. Then pull the bottom corners to the front and seal them together.
Heat oil to 350F. Fry until golden and drain on rack.
~~~~~~~~~~~~~~~~~~~~~~~~~
I chopped the imitation crab.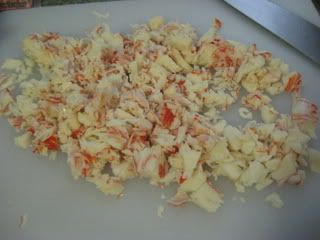 You could use real crab if you want. But I think I like imitation better for this.
Mix together all of the filling ingredients.
Cream cheese, sour cream & crab
Green onions
Garlic
Ginger
Soy sauce
All mixed up.
The filling was GREAT!! Jon said he'd like to have it on bagel.
Now for the wrapping.
I had a hard time with this.
First off, my wonton wrappers were the small size... but they weren't square, so that made nice neat triangles difficult.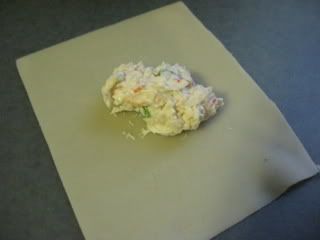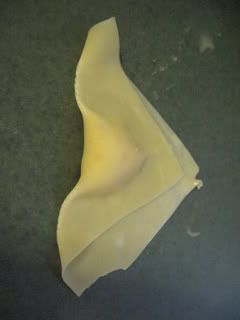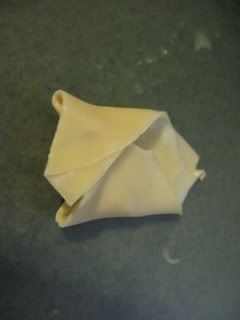 That was a huge pain... so I decided to just make them big regtangles.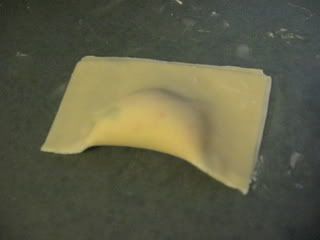 These seemed to be working out ok.... but I couldn't tell how well they were sealing.
So I decided to try wrapping some up
lumpia
style.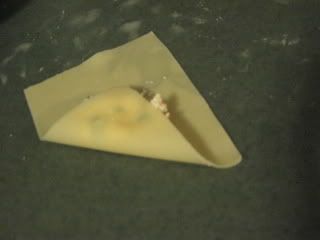 (still a little funky since they aren't square!)
That little flap gets sealed shut...
I decided to fry up what I had made so far, to determine which shape seemed to work out the best. (I had mostly rectangles made)
Heat the oil to 350F
***Notice you can actually see inside one of my pots?? That's because my awesome husband Jon installed LEDs over the stove for me!!! Yay!!!!
Ok... so into the hot oil with some test rangoons... the one at the bottom right is the first shape I tried. I think I only made two of those.
The first shape worked out ok, but was a pain to make due to not being square.
About half of the rectangles puffed up. That was mostly ok... but then the filling just kinda rolled around in the pillow puff.
Lumpia style held it's shape and was easy to do.
So the rest of the Crab Rangoons were kickin' it lumpia-style!
Dipping Sauce!!
I wanted something sweet & spicy.
So that's some La Choy Sweet & Sour Sauce.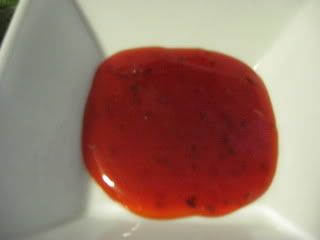 Some
sriracha sauce
.
(Sambal olek would have been great too, but I'm out of it)
And some soy sauce.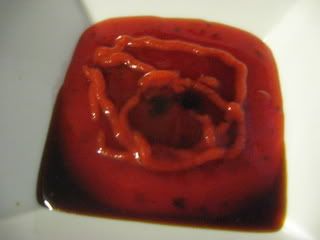 Yeah, I should have mixed it in a separate bowl... but I was running out of time!
Woohooo!!! Crab Rangoon!! Just in time for House!