A couple weeks ago I was kinda wanting something sweet for breakfast. That's unusual for me. I'll almost ALWAYS choose a savory breakfast. I had Stuffed French Toast on the mind and decided I had to make some. I typically only 'cook' breakfast on Sundays. Weekdays are way too busy in the morning and I choose to sleep until the possible minute I can and still get the kids off to school and make it to work on time.
Saturdays can be busy too... and I usually reserve them for coffee with Ericka. We don't make it every week... but we try.
So anyway... a couple Sundays ago, I wanted Stuffed French Toast. It's was wicked easy and wicked good!
First I beat together 8oz of whipped cream cheese with about 1/4 C sugar and a teaspoon of vanilla.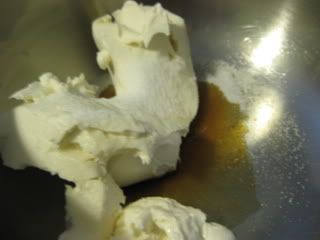 Then I whisked up some eggs with milk, cinnamon & vanilla.
Spread a good layer of Cream Cheese Mixture on Pepperidge Farm Cinnamon Swirl Bread.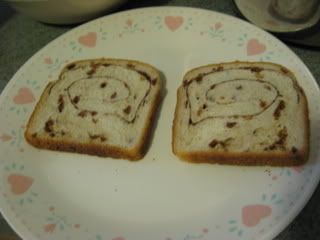 Top with another piece of Cinnamon Bread.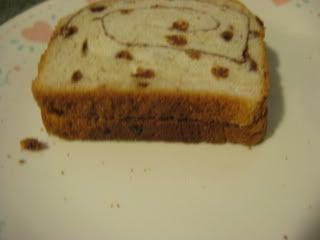 Dip Cream Cheese Cinnamon Sandwiches into egg mixture.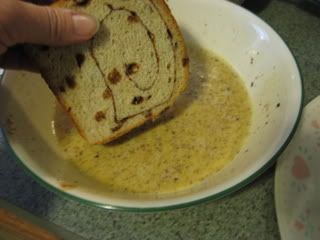 Cook in a hot skillet until golden on both sides.
YUM! Does that look good?
While I was eating that I was thinking... "next time... I think I'll add raspberry jam"
Well... I couldn't stop thinking about the Cream Cheese Stuffed French Toast with Raspberry Jam.
So yesterday... I made it again.
Jon and Bobby and Lilly just wanted plain cinnamon French toast. That was easy enough.
When I was digging in the fridge for the raspberry jam, I found a jar of caramel sauce for ice cream!
So I had Cream Cheese Raspberry Stuffed French Toast. (now I wish I had fresh raspberries for this, but it was a spur of the moment thing... Donna over at
My Tasty Treasures
often garnishes with raspberries and everything looks so pretty!!
Here's my mostly ungarnished, but totally tasty breakfast!
And as soon as I found the caramel, I knew Tawny would want hers stuffed with cream cheese and caramel. Also very yum!
This can be totally adapted to suit your tastes. Instead of vanilla in the cream cheese, add almond or lemon... or how about some lemon, lime or orange zest?
Add your favorite jams, marmalades, chutneys or spreads... or dare I say... Nutella??
~~~~~~~~~~~~~~~~~~~~~~~
On to the Awards...
I've been totally slacking acknowledging two awards given to me by a couple of very cool bloggers!
Donna at
My Tasty Treasures
thank you so much!!! I'm totally flattered that you chose to pass this along to me! If you haven't checked out her blog yet, hurry over! She wicked funny and cooks great food. It's also really fun when she and her FireFighter Husband are blogging together. Plus she has 4 - 8 kids running around at any given time! How does she find the time to cook up all of her fabulous dishes? I don't know... but you should definitely check her out!
The rules for this award are as follows:
1. Put the logo on your blog or post.
2. Nominate blogs of people who you think show great attitude and/or gratitude
3. Be sure to link to your nominees within your post.
4. Let them know they have received this award by commenting on their blog.
5. Share the love and link to this post and to the person who has nominated you for the award.
I am passing the award of Sisterhood on to:
Tamilyn at
Butter My Kitchen
Katie at
Chaos in the Kitchen
Michele at
My Italian Grandmother
Danielle at
Cooking for my Peace of Mind
Maria at
Two Peas and Their Pod
And Sarah over at
Mom on the Run
gave me the Kreativ Blogger Award! Thanks so much Sarah! I'm honored that you chose to pass this along to me! Sarah's is one of the first blogs I look for everyday. Check out all of the tasty food she's cooking up in her kitchen!
I'm passing this award along to:
Lola at
Lola Lakely: Life, Love, & the Pursuit of Insanity
CheeseWench at
Cheese Is Alive
Elle at
Elle's New England Kitchen
Natashya at
Living in the Kitchen with Puppies
Melissa at
Made by Melissa
.
~~~~~~~~~~~~~~~~~~~~~~~~~~~
Thanks to Cathy at
Noble Pig
for helping me with my comments setting!
Thanks Cathy!!
If you tried to leave a comment before, and were unable to due to lack of an account or something, that should be corrected now!