I love English Muffin Pizzas. I can remember my mom making them occasionally when I was little.
They're cool, because they are really fast and I usually have everything in the house to at the very least make a plain cheese one!
You'll need:
English Muffins
Pizza sauce
Pizza cheese
Any pizza toppings you like
I do these a couple at at time in my toaster oven. I could make them all at once in the oven, but I 'think' it's cheaper to use the toaster oven, than waiting for the whole oven to heat and doing them in there. I could be wrong though. It wouldn't be the first time!
Plus this way, the kids can eat as the pizzas come out. Otherwise everyone has to wait for me to sit down before they can eat. It's a pet peeve. (and good manners... HELLO!!!???) I HATE to see people eating before mom. (not just me... any mom... or the main cook in the house) We slave in the kitchen to feed our families and they gobble everything down and are on seconds before we even sit down. Thankfully mine are well trained and wait.
Ummmmm.... Sorry... totally sidetracked there!! ~wicked pet peeve~
Anyway... it's a treat for them to be able to eat immediately... especially something fun like English Muffin Pizzas!
So I like to heat each step of these. That way they seem to be heated all the way through better than assembling the whole thing, then cooking them.
Toppings are limited only by your imagination.
This is what I had on hand.
Split the English muffins and pop them into the toaster oven.
You don't want to toast them all crispy and golden, like you were having them for breakfast. These will be making a few more trips to the toaster oven and will crisp up plenty. Just warm and very light.
Now add sauce.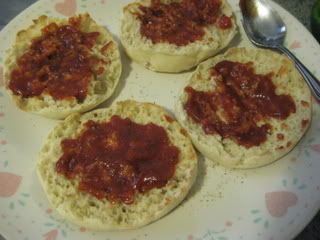 Back into the toaster oven, just to heat up the sauce. (I suppose you could start with heated sauce, but that just this second occurred to me!)
The sauce soaks in a little during heating.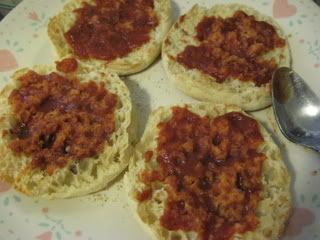 Now for cheese & toppings... back into the toaster oven until golden & melty.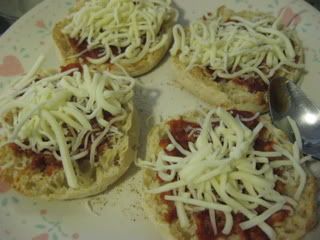 Pepperoni for Lilly and Pepperoni with Extra Cheese for Bobby.
Garlic... Pepperoni for Jon, Onions, Green Peppers & Pepperoni for Tawny.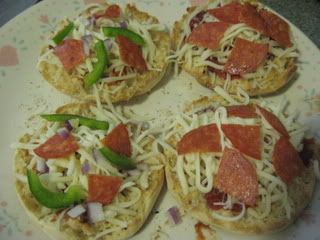 Garlic, Onion, Green Peppers & Tomatoes for me.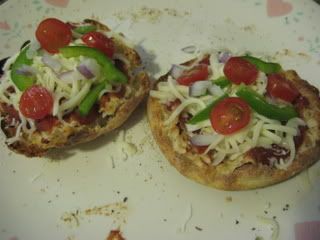 But I noticed Practical Magic was on TV while I was making these and got side-tracked with Midnight Margaritas... so mine are well-done... I like them well done anyway!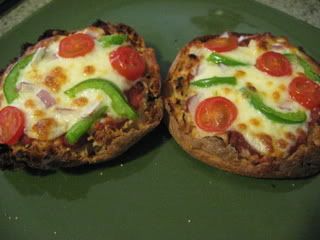 And I just noticed that not a SINGLE pizza had Italian Seasoning on it!! I sprinkle that on the top of most of the pizzas I make!
Oh well... I don't remember noticing then!
These are a fun lunch or dinner... or a wicked good snack!
Enjoy!