When I first moved to California in the mid 80s, the Plaza Camino Real Mall in Carlsbad had a little place called The Great Hot Dog Experience. I don't know how long it had been there, but it wasn't there for very long.
They sold a hot dog called a Chimi Chili Dog. It was AWESOME!
I recreated it and make it once every couple of years. It's definitely not for those watching their weight. But if you want pure delicious junk food.... keep reading!
You'll need:
Hot dogs ~ I just use the store brand beef hot dogs that are usually on sale.
Chili ~ Your favorite
Cheese ~ I used colby jack... use whatever you like on a chili cheese dog.
Large flour tortillas
Your favorite Chili Dog Toppings... onions... jalapenos... ????
Your favorite Chimichanga Toppings... salsa... sour cream... salsa... ????
Oil for deep frying
Fry the hot dogs and heat up the chili.
Microwave the flour tortillas so they are nice and pliable.
Add some shredded cheese.
Then a fried hot dog.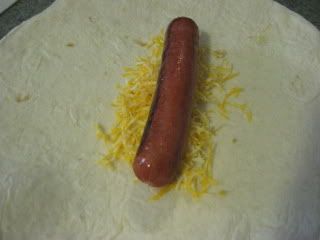 Now some chili and onions and whatever else you'd like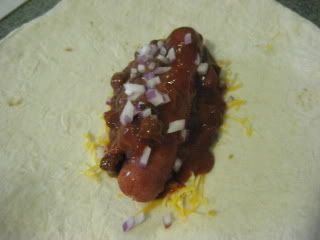 Some more cheese.
Now roll it up like a burrito.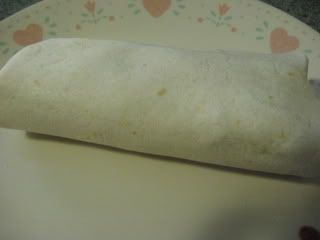 Heat the oil to 350F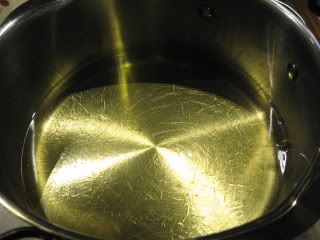 Put the Chimi Chili Dog into the oil, seam side down and hold it in place for a minute so it doesn't unroll.
Turn when golden to brown the other side.
Tip Chimi Chili Dog to drain oil from both ends and drain on rack.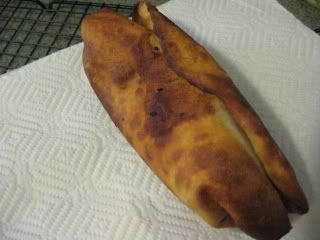 Serve with your favorite chimichanga toppings.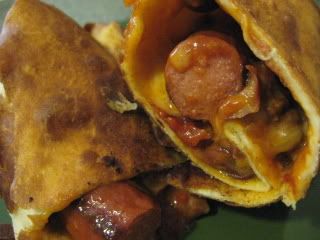 Eat it with a fork and knife or pick it up and eat it like a burrito!
Enjoy!!