I was grocery shopping the other day and stumbled across Caramel Vanilla Marshmallows.
These stopped me in my tracks. Tawny LOVES caramel. I had to buy them and make something cool. Caramel Rice Crispy Treats! Yay!! Everyone will LOVE those!
I brought them home and brought the bag to Tawny's room to show her. I was expecting wide-eyed excitement at my find. But what did I get? The completely nonplussed reaction of a 16 year old! So I told her the reaction I expected. We practiced a few times. Then I showed her again. Yay! She was as excited as I was to find them! (hey... just let me believe it ok??)
So then I asked everyone what they thought I was going to do with them. They all said S'mores... even my mom when I was talking to her on the phone. They all thought Rice Crispy Treats were a better idea... but they all guessed S'mores. Weird...
Caramel Rice Crispy Treats
1 bag Caramel Vanilla Marshmallows (10 oz bag)
6 cups of crisp rice cereal
3 TBLS butter
Melt butter in a large pot.
Over low heat, melt Caramel Vanilla Marshmallows in butter.
Remove from heat and stir in crisp rice cereal.
Press into a greased 13 x 9 pan.
Cool, cut and enjoy!
~~~~~~~~~~~~~~~~~~~~~~~~~~~
This is all you need.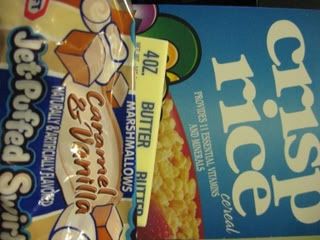 Melt butter in a large pot (obviously pre-LEDs above stove!)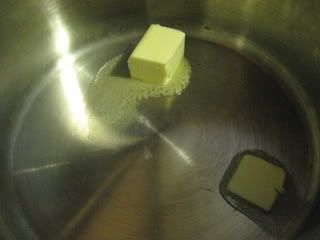 Melt Caramel Vanilla Marshmallows into butter.
Now remove from stove and stir in crisp rice cereal.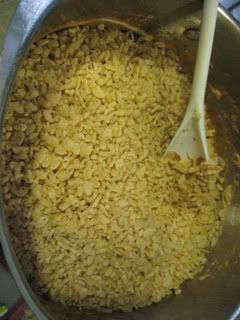 Spray 13x9 pan with cooking spray and pour cereal mixture into it.
Spread it around.
It's easier to press it into the pan with your hand.
Cool... cut... and enjoy!!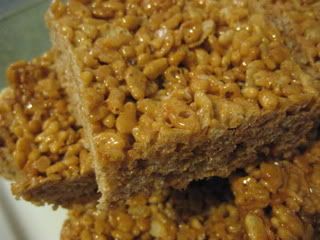 These were good.... but I think we all agreed that we like them better with just plain marshmallows!
I have one more bag... maybe I'll make S'mores!