I had never made Stuffed Shells. Nope never. I actually, don't think I'd ever eaten them either.
So last weekend, after hearing lots of people talking about all different ways to make them, I decided it was time to give them a try.
Jon liked this idea! Yay!
I was thinking Italian Sausage, Cheese & Spinach.
So as usual... lots of searching through very similar recipes to come up with some kinda plan.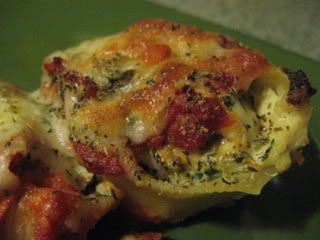 Spryte's Stuffed Shells
1 box jumbo shells
1 lb mild Italian sausage
6 oz fresh baby spinach
1/2 medium onion, diced
5 cloves garlic, minced
16 oz ricotta cheese
1 egg, lightly beaten
1 cup shredded parmesan, romano & asiago
1/2 cup bread crumbs
1 heaping TBLS Italian seasoning
olive oil
Spaghetti Sauce
2 cups shredded mozzarella/provolone
Cook and drain shells according to directions on package and set aside.
Pour a little olive oil in a large skillet and saute onions and garlic.
Add Italian sausage and cook until no longer pink.
When sausage is no longer pink, add baby spinach and cook until completely wilted.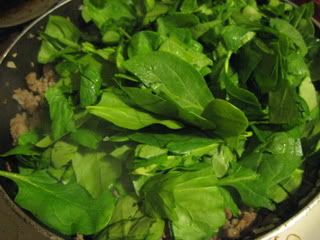 Set meat & spinach aside.
In a large bowl, combine ricotta cheese and egg and mix well.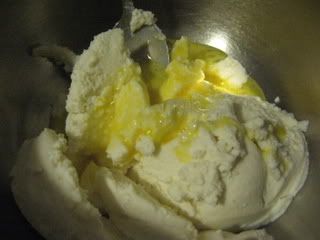 Add about a cup of shredded parmesan/romano/asiago cheese.
Some Italian seasoning.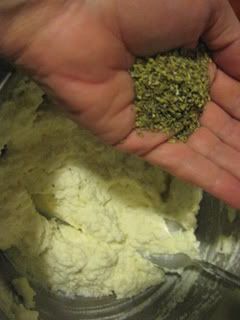 About 1/2 cup of bread crumbs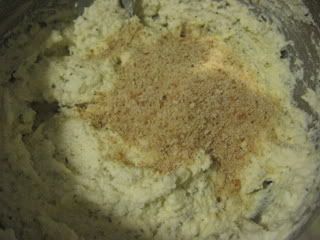 Stir until well combined.
Stir sausage/spinach mixture into cheese mixture.
Coat the bottom of a baking dish with enough
Spaghetti Sauce
to just cover it.
Fill cooked shells with sausage/cheese mixture.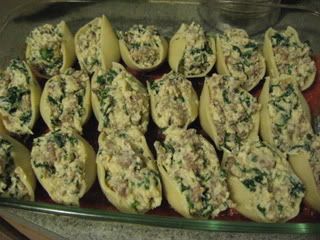 Spoon more sauce over filled shells.
Bake 20 - 30 minutes at 350F until heated through.
Sprinkle with shredded mozzarella & provolone cheese.
Bake a few more minutes until cheese is golden and melty.
It's dinner time!