I recently drove by Boston Market and noticed a sign in the window saying that they have Chicken Fried Steak. I started thinking that I hadn't made it for a long time. A couple days later, out of the blue, Jon and Tawny both started asking for Chicken Fried Steak.
I finally got around to making it.
This is definitely not something you want to eat regularly. (unless you're a lumberjack or something)
You'll need:
Cube Steak
Flour
Seasoned Salt
Pepper
Smoked Paprika
Egg
Milk
Chicken broth
Oil for frying
Whisk together a couple of eggs in a shallow bowl and set aside.
Combine about 1/3 C flour, seasoned salt, pepper and smoked paprika.
Dredge cube steaks in flour.
Then dip them into the beaten egg, then into the flour again.
Reserve any leftover flour mixture.
Pour about 1/2 in of oil into a large skillet and heat to approximately 350F.
When oil is hot, carefully place steaks in pan (don't crowd them) and cook until golden.
Turn and cook the other side until golden. Set aside.
I don't really measure this part. We like gravy and I usually make a lot.
Get milk & chicken broth and have them available.
Drain off oil, leaving about 1/4 cup in the pan.
Add about 1/4 cup of flour (including any you had leftover from dredging the steak) to the pan and whisk for a couple of minutes. Don't step away.
Pour in about a cup of milk and whisk.
I add chicken broth to get the gravy to the consistency we like.
Taste the gravy too. You might want to add some salt/pepper/paprika.
Ladle gravy over steak and serve with mashed potatoes!
~~~~~~~~~~~~~~~~~~~~~~~~~~
Ok... I picked up cube steak. I don't know what cut of beef it is.
It looks like this and you could easily pull it apart.
Season the flour with seasoned salt, pepper and smoked paprika.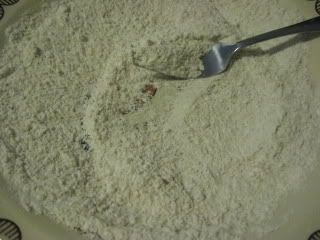 Dredge the cube steak in the seasoned flour.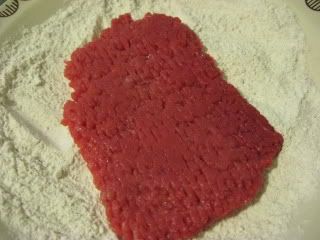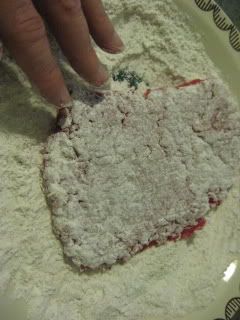 Do this to all steaks before going on to the next step.
Whisk up an egg or two.
Dip each steak into the egg, then into the flour mixture.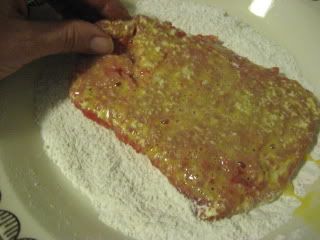 Two down, One to go.
Save the leftover flour.
Heat up the oil to 350F.
(my new LEDs are like eyes staring out of the oil)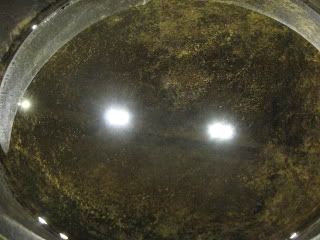 When the oil is hot, carefully place the steaks in the skillet.
When they are golden, turn them over.
When all of the steaks are fried. Drain off all but a 1/4 cup of oil.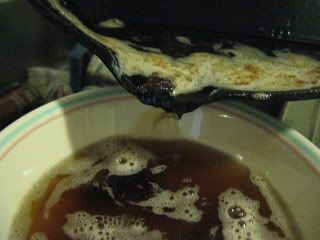 Put the skillet back on the stove and add about a 1/4 cup of reserved flour (add more flour to make 1/4 cup if needed)
Whisk it for a few minutes.
Add about a cup of milk and whisk.
I thinned that out with chicken broth... but apparently didn't take a picture of it!
Ladle over steak and enjoy!
With left over
Colcannon
and a biscuit.