I love Ham Salad. It's one of those sandwich salads, that I like smooth. No chunks!
I make this when I have leftover ham but often I'll buy some ham just to make Ham Salad.
You'll need:
Ham
Mustard
Mayo
Salt & Pepper
Bread
Put the ham into the food processor and pulse until it's ground.
If you don't have a food processor, you can just mince it really fine.
Add enough mayo & mustard to hold it together and salt & pepper.
That kinda looks like an egg... but it's mustard on top of mayo.
If you like it wetter add more... dryer add less... I like it just held together and mustardy. So I use more mustard.
You can use whatever kind of mustard you want. I like yellow for Ham Salad.
That's it.
Lunch time!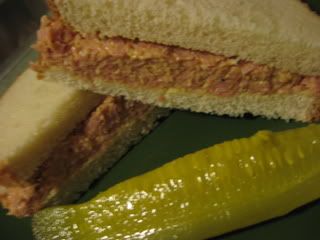 You could add onions or pickles or lettuce & tomato, whatever you like!
I like mine pretty basic.