This recipe is one that my X-mother-in-law used to make.
I don't make it the same way she did. But she never shared recipes... even when she still liked me. Ya know... maybe she really never liked me and that's why she didn't share! Who knows and I really don't care... so I'm pretty sure you don't either!!
Anyway....
I now I make a cheater's version of hers. I'm pretty sure she fried up some bacon... then fried up some onions in the bacon fat, then seared the pork chops in the bacon fat... then covered the pork chops with sauerkraut, crumbled bacon and onions.
This is my cheater's version.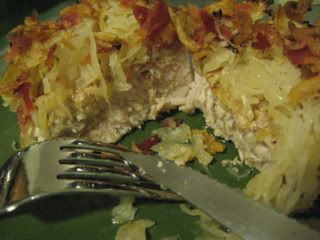 You'll need:
Pork Chops
Sauerkraut
Bacon (I use a package of microwaveable bacon... but I used to use a jar of REAL bacon bits...no Bacos!)
Durkee French Fried Onions
Brown Sugar
Salt & Pepper
Smoked Paprika
Season your beautiful thick center cut pork chops with salt, pepper and smoked paprika.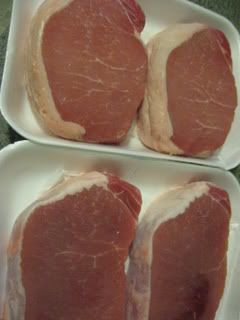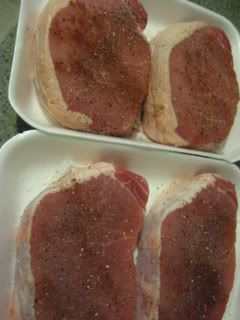 Sear both sides in a hot skillet.
Place seared pork chops in a baking dish.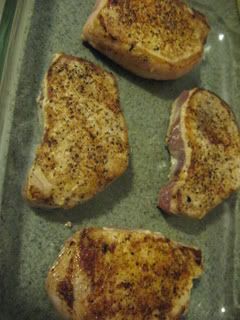 In a large bowl, mix sauerkraut (I used two pounds) with a couple spoons of brown sugar and some pepper.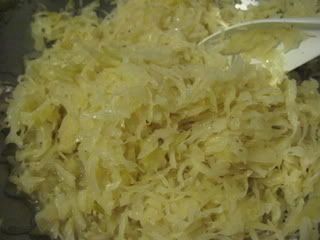 Cover pork chops with sauerkraut, including any juices left in the bowl.
The pork chops are in there! Trust me!
Bake at 350F, until pork chops reach about 145F.
Take them out of the oven and cover the sauerkraut with chopped bacon (or REAL bacon bits) and Durkee French Fried Onions.
This is a whole package of microwave bacon.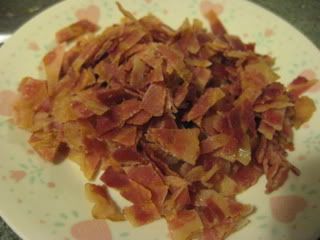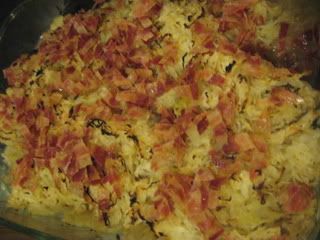 Bake for about 10 more minutes or until pork chops reach 155F.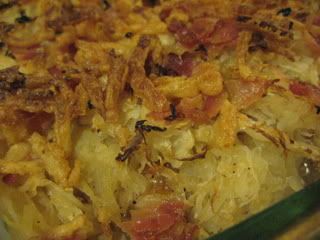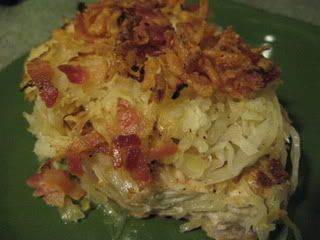 So moist and juicy inside!!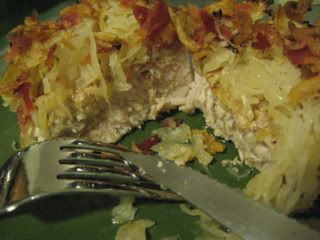 I serve it with white rice.
I make LOTS of sauerkraut because the kraut mixed with bacon and onions is GREAT as leftovers mixed with rice!
YUM!