Well... they started out being Chicken Fajita Quesadillas. But now it's more like a Quesadilla Bar, with me manning the grill. I like Quesadillas because they are so versatile and you can fill them with whatever you like.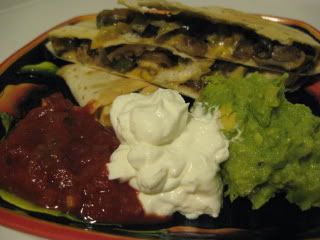 You'll need:
Large Flour Tortillas
Cheese - I usually use ColbyJack... or Colby & PepperJack
Meat - or no meat
Veggies
When these were just Chicken Fajita Quesadillas, they had grilled onions & peppers... chicken,
Smoky Mexican Chicken
, leftover chicken, already cooked seasoned chicken strips... whatever chicken I had on hand.
Jon doesn't like onions & peppers... so I started cooking up mushrooms for him... then he said he'd like some black olives.
So now I pretty much just figure out what meat & veggies would be 'convenient' for me to use and offer those up as choices to everyone.
Bob doesn't like his quesadilla folded and grilled... he likes it open with just cheese and microwaved until melty... or lately he's been adding pepperoni.
Tawny usually likes a little of everything in hers... but prefers her veggies raw.
Lilly usually keeps me guessing.
Jon typically just wants chicken, olives & shrooms... this time he opted out of shrooms... cool... more shrooms for me!
I like LOTS of veggies and although I almost never leave the chicken out of mine... I always say that I should have!
I start by cooking up the veggies. Sometimes I put a little oil in the bottom of the pan... but mostly I just cook them in a little bit of chicken broth.
A little oil today.
Onions, Peppers & Mushrooms.
Everyone at my house is so picky that I try to keep them separate while I cook them. Yes... my family is spoiled. It's no one's fault but mine!
I like to sprinkle them with a little liquid smoke too. It gives a bit of grill flavor to the veggies.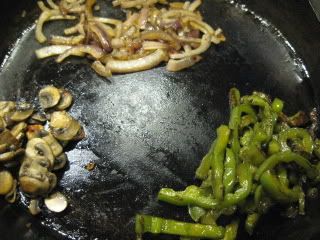 Lay out a flour tortilla and sprinkle half with shredded cheese.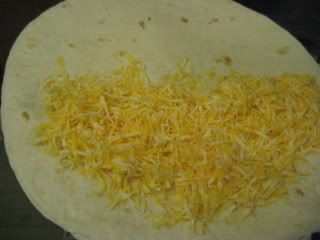 Then the rest of your fillings...
For Jon... just chicken & olives this time.
Plus a little more cheese so that it seals shut when cooking.
Fold it up. I usually cook these in my Foreman Grill; then I don't need to flip them... but sometimes I cook them in a skillet.
If you cook it in the Foreman, make sure the folded edge is down so your fillings don't run out into the drip tray.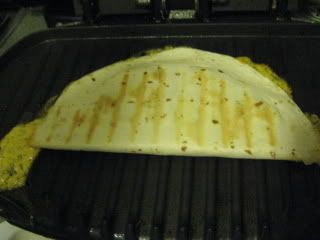 Mmmm.... see the cheese oozing out on the left side? I usually keep those little grilled cheese chips for myself. But I was feeling really nice and gave it to Jon.
Jon's Quesadilla (with cheese chip!)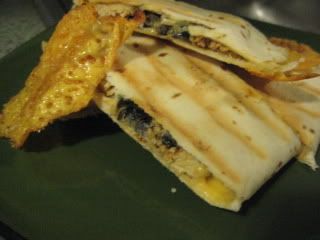 Lots of veggies for me!
Chicken, Mushrooms, Onions, Peppers and Green Chilies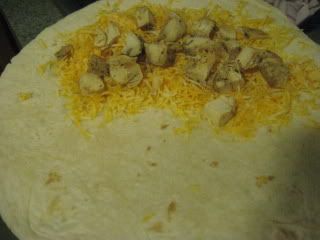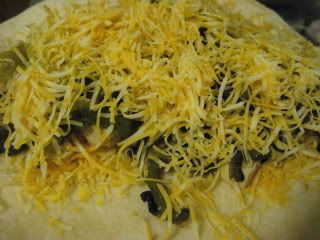 Into the Foreman Grill.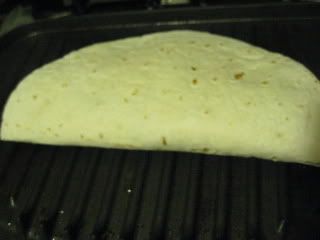 The Karma Faery rewarded my Cheesy Chip generosity with lots of Cheesy Chips!!
YUM!!!
And I like Salsa, Sour Cream and
Guacamole
with mine.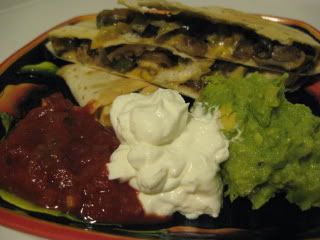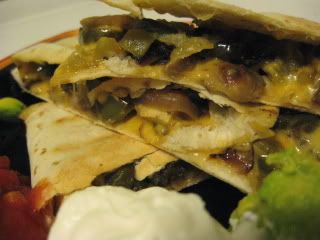 Quesadillas are often what's going on in my kitchen, since I usually have everything on hand!