This is something I tweaked based on what Jon (Hector) was making over Labor Day weekend. It's soooo good. My daughter wants to have it almost every night! It's really easy too!
I have a Lemon Drop Chili plant that a friend gave me. The chilis are very hot and are supposed to have a citrusy flavor. I don't really notice a citrus flavor. But they are very hot and are a pretty bright yellow color. I thought they'd be perfect to spice up this soup. So the first step for me, is out to my garden to get one!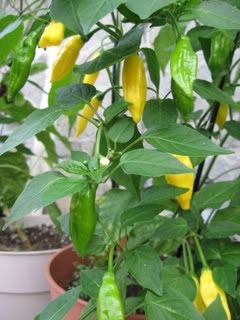 If you don't have a Lemon Drop Chili Plant in your garden, you could use any hot pepper you like. A serrano would be good or a hot Thai chili.
You'll need:
1 package chicken flavored Ramen noodles (or your favorite flavor)
2 C water
1 egg
1 green onion
1 Lemon Drop Chili (or a hot chili of your choice)
2 TBLS rice vinegar
about 1/2 in of ginger root
You could also add a couple of shitake mushrooms sliced into strips or some sliced chicken or pork.
Cut your chili into 5 pieces. The smaller you cut it, the hotter it will be.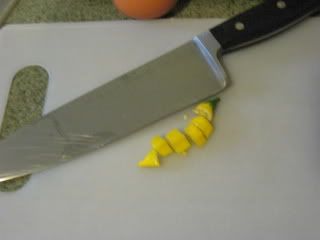 Grate your ginger root
About 1/2in (more or less to your liking)
Cut up your green onion. (some day I'll get 'actual' kitchen scissors)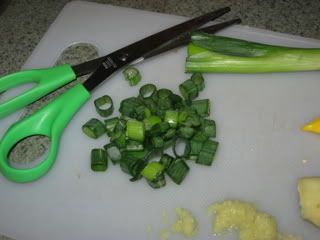 Bring two cups of water to a boil and toss in your noodle block. When it starts to soften up, flip it over and crack your egg on top of it.
Gently stir it around while breaking up noodles. Add season packet from Ramen and stir. If you're adding mushrooms or meat, add it now.
Add grated ginger root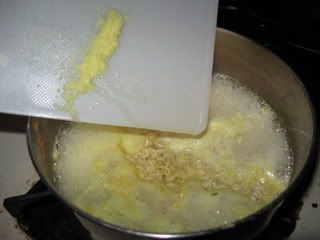 Then add rice vinegar and stir.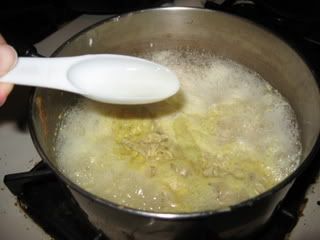 Add chili, stir again and pour it into a big soup/noodle bowl.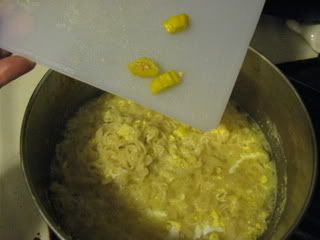 Sprinkle green onions on top.
Enjoy!!