Growing up, Easter was always celebrated at our house. The whole family came over. It was a TON of people! I really miss the huge extended family celebrations.
We always had ham and Mum always made it like this.
You'll need a ham (already cooked) I think Mum uses a canned ham and has the butcher at the grocery store slice it REALLY thin and tie it together.
I haven't had much success with that. The last time I tried, the butcher turned a big ham into a big pile of chipped ham. So I no longer try to have it sliced. I just slice it myself after it's cooked to serve. Mine isn't as good as Mum's because having it pre-sliced, all those yummy juices get all over every single slice. Ya know... next time I will try to have it sliced!!
Anyway!
You'll need:
Ham (however big you need to feed your family... don't forget to get a little extra for ham sammies with the leftovers!!)
Cherry Brandy
Pineapple Slices in juice
Maraschino Cherries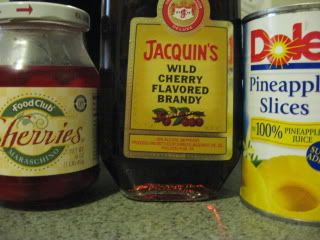 That's all.
Place the ham in a baking dish.
Arrange pineapple slices to cover ham.
Fill in all the spaces with cherries.
Pour about half a cup of cherry brandy over the ham & fruit.
(more or less depending on how big your ham is)
(oops... it's a little blurry... hard to pour stuff and photograph it at the same time!)
Pour on a some of the pineapple juice.
Now bake it according to the directions that came with your cooked ham.
Baste it a few times during cooking to get that yummy juice everywhere.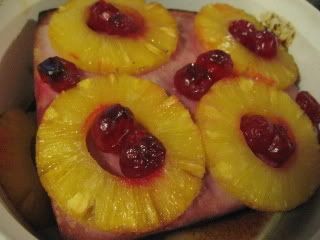 That's it!