After much tweaking... this is the best Green Curry Chicken I've made to date!
Green Curry Chicken
1.5 lbs boneless skinless chicken
2 C chicken broth
1 14oz can coconut milk
1 heaping TBLS green curry paste, (more or less depending on how hot you like it)
1/2 tsp salt
1/2 tsp garam masala
1/2 tsp sweet curry powder
1/2 tsp mirin
3 cloves garlic, minced
1.5 C green beans
1.5 C broccoli florets
olive oil
1/3 C raisins (approx 1 snack sized box)
green onions (if desired)
shredded sweetened coconut (if desired)
This is the basics... the stuff I added along the way is not in this pic.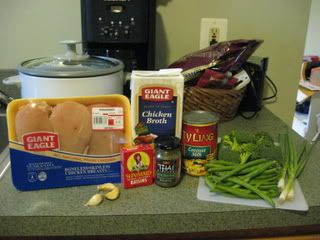 Cut chicken into thin slices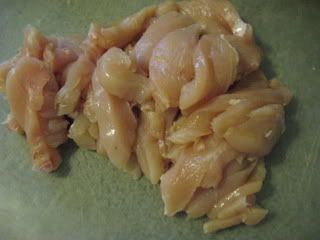 In a large skillet, drizzle olive oil & saute garlic a bit
Add chicken broth & coconut milk to the pan and stir.
Whisk in green curry paste.
Add salt, garam masala, sweet curry powder and mirin; stir.
Simmer on low for a couple of minutes.
Add chicken to pan and simmer on low until chicken is cooked through.
Add green beans & raisins, cook a couple of minutes.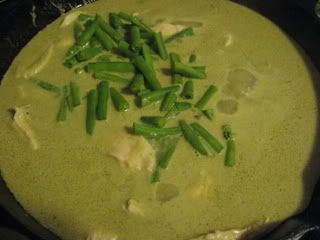 Add broccoli and cook until just tender crisp.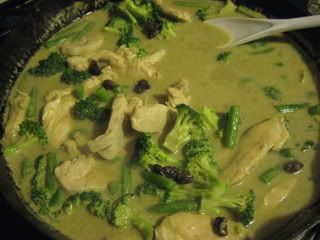 Serve over hot rice.
Garnish with green onions.
Or flaked sweetened coconut.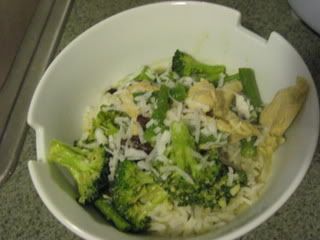 Enjoy!!