I LOVE sandwiches. All kinds! They are definitely at the top of my favorite foods list.
Last night I needed an easy, everyone eats when they're ready kinda dinner. So I figured I'd have panini.
I picked up some nice lean roast beef from the deli, some muenster and some single serving size ciabiatta.
I like to brush my panini bread with garlic oil. Rosemary Garlic Oil would have been to die for!!! But I didn't think of it until it was too late.
Then I add mix of about equal parts crumbled bleu cheese and ranch dressing.
Some diced red onions
Mustard... I picked yellow last night!
Add some muenster.
Pile on the roast beef.
Grind on some salt & pepper.
Top it will a little more muenster.
Put the top on and it's ready for the grill.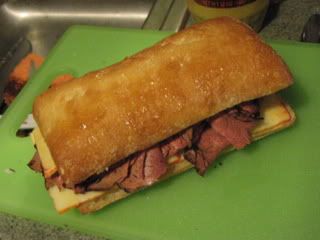 I don't have a panini press, so I use my George Foreman Grill.
Sneak peak inside!
When using a Foreman Grill... you have to turn your sandwich half way through, or it's lopsided.
Melty goodness!
Mmm Mmm Mmm
Dinner Time!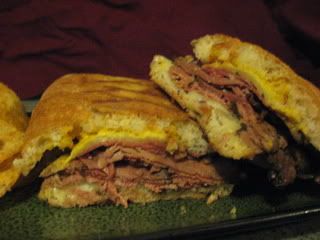 Enjoy!