Jon's chili is my favorite! It has super tender chunks of meat that just melt in your mouth.
Hector's Chili
1 Tbls olive oil
2 medium yellow onions
1 lb hot sausage meat (loose ground or links w/casings removed)
1 lb lean beef stew meat
2 bottles (12 oz each) beer (smoked beer ROCKS!)
1 can (28 oz) plum tomatoes in their juices
2-4 TLBS Chili powder
1 TBLS whole cumin seeds
1 TBLS dried oregano
1/2 tsp ginger (grated is better than ground)
1 tsp salt
1/4 tsp ground allspice
1 can (15 oz) light kidney beans rinsed & drained
1 can (15 oz) dark kidney beans rinsed & drained
6 large garlic cloves, finely chopped
4 tsp Caribbean style hot pepper sauce (or your favorite hot pepper sauce)
Dice onions
Heat oil in a large soup pot over medium heat.
Add onions and cook, stirring occasionally, until translucent to golden, about 10 minutes.
In a separate skillet, crumble sausage and cook, stirring often.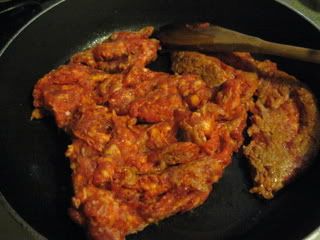 Cook until sausage looses its pinkness, about 8 minutes, and drain off excess fat.
Transfer the sausage to the pot with the onions.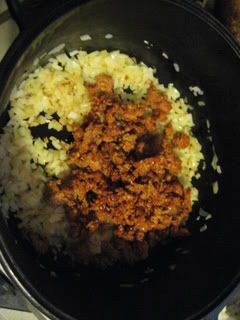 If it's not already cut, cut your stew meat.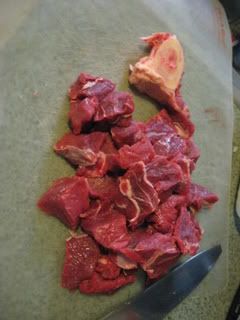 SCORE!! Bonus Flavor Nugget! aka the bone!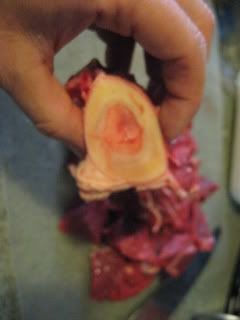 Add stew meat and turn heat to low.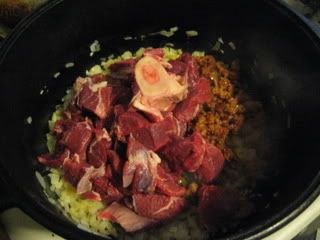 Give that a stir.
Add the beer.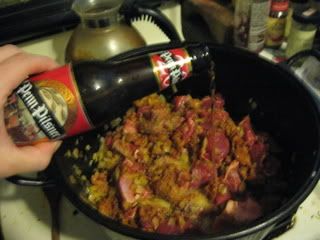 Then add the tomatoes with their juices, breaking up the tomatoes with with a knife or your hands.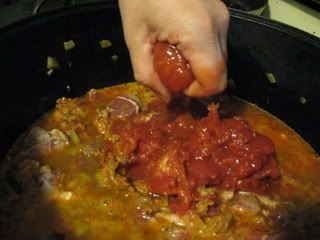 Give that a stir
Stir in the chili powder, cumin, oregano, ginger, salt and allspice.
Oops... I was out of dried oregano, so I had to grab some fresh from the garden.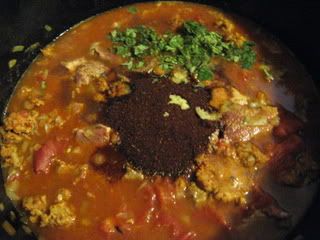 Simmer, covered, for 1.5 hours.
Drain & rinse beans
Chop garlic
Add beans and garlic to the pot.
Simmer until done, about 30 minutes to one hour.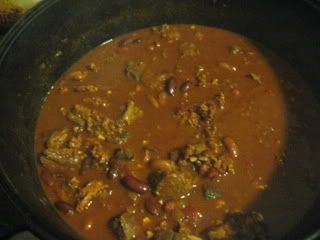 Add hot sauce just before serving or put a bottle of hot sauce on the table and let people add their own.
Garnish with sour cream and shredded cheese.
Serve with warm cornbread.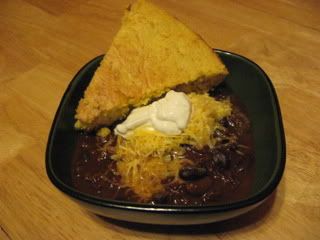 Enjoy!