Sunday I was trying to tie some dinner flavors together and made Pancetta Rosemary Chicken. It's pretty tasty and very easy!
You'll need:
3 boneless skinless chicken breasts
1/2 C chicken broth
1/4 C dry white wine
3 thick slices of pancetta, chopped
1 or 2 cloves of garlic, minced
1/2 tsp pepper
1/2 tsp Paprika
1/2 tsp Salt
2 sprigs rosemary, fresh
Combine salt, pepper and paprika
Place chicken breasts in a baking dish.
Sprinkle evenly with spices
Then sprinkle minced garlic evenly over breasts
Chop your pancetta
And sprinkle it evenly over the chicken breasts
Add your rosemary sprigs around the chicken.
Add chicken broth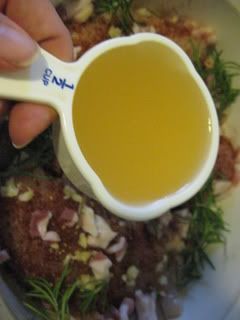 Then white wine
Put it into a 350F oven
Bake 30 - 40 minutes or until chicken is cooked through.
Enjoy!