American Chop Suey, Goulash, Johnny Marzetti... whatever you call it; this is something my mom used to make all the time growing up. It's wicked fast & easy & good. She used Ragu. Now I would never use Ragu for anything but this. (nothing personal Ragu) But it is a MUST for this recipe. Otherwise, it just doesn't taste like Mum's! But I do add a little Italian Seasoning to it. This can be on the table in 15 minutes. Awesome for busy nights.
American Chop Suey
(printable recipe)
1 lb elbow macaroni
1 lb ground beef
1 jar Ragu
a little Italian Seasoning
This is all you need: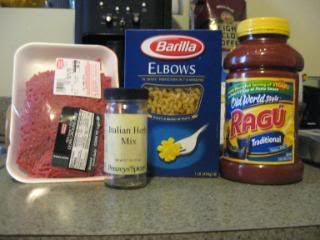 Boil a big pot of water for macaroni and cook according to directions on the box.
Meanwhile, brown your ground beef... I didn't take a pic of this step... and I probably have tons of pics of ground beef browning, but I'm sure you know how to brown ground beef.
So anyway... brown and drain your ground beef.
Pour jar of Ragu and a little Italian seasoning into the meat and heat through.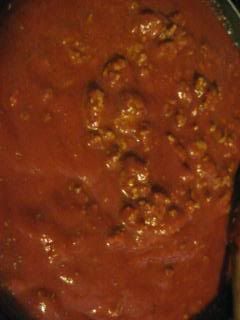 Drain your cooked macaroni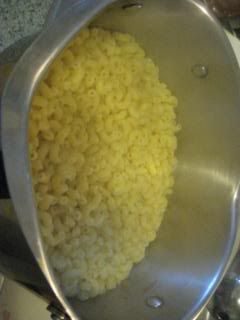 Add meat sauce to macaroni and stir to coat.
That's it.
Add some garlic bread and a salad... dinner is served.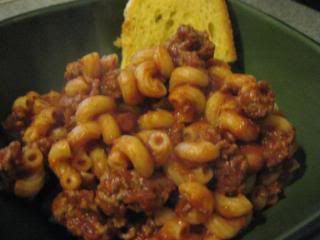 I'm sure there are way more fancy ways to make this. But this is how Mum made it and it's how I make it too!
Wicked fast, wicked easy, wicked cheap, YUM.