I was just trying to make a tasty meal using the flavors of the season! So... Apple Onion Pork Roast is what I came up with. It's easy because you just toss it all into the crock pot in the morning and it's ready when you get home from work in the evening.
You'll need:
3lb pork loin roast
1 C apple cider
1 red onion, quartered
1 granny smith apple, quartered
4 cloves of garlic, smacked
2 or 3 sprigs of thyme
1 sprig of rosemary
1/8 tsp allspice
salt & pepper
I ALWAYS start with lining my crockpot!!! It makes clean-up a snap!
Plop your pork roast into the crock. I 'should' have seared it on all sides first, but it was early and I was not yet caffeinated. That would have added lots of flavor. I'll try to be more alert next time!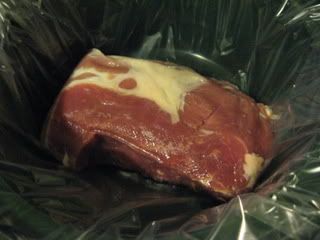 Cut your apple into quarters... I also cut out the seeds.
Add them to the crock pot.
Cut your onion into quarters.
Add them to the crock pot.
Peel and Smack your garlic. To do that, place a clove of garlic on your cutting board. Place the flat side of your chef knife on the clove of garlic. With your fingers point up, firmly smack the flat surface of the knife, crushing the garlic.
Add garlic to the crock pot.
Next up... apple cider.
Add that to your crock.
Toss in your rosemary & thyme.
Grind in some salt & pepper.
Sprinkle in your allspice.
Cover your crock pot and cook on low. No peeking. Crock pots work best when they stay covered.
After work, whip up a quick side... and dinner is ready!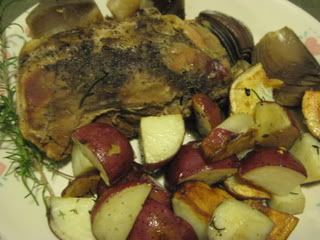 Enjoy!