So it's really rare that I have chicken with skin and bones in my house. But Saturday night, I wanted to make some
Smoky Mexican Chicken
for Chicken Enchiladas. Boneless Skinless Chicken was not on sale that day, but Bone-In, Skin-On split breasts were buy one get one free. I figured... no one but me will have to mess with skin and bones and it won't be so bad. I bought one and got one free.
I had considered just cooking up both packages, but then I knew that I'd be eating shredded Mexican chicken all week. Which is totally cool with me. But my family might get a little bored. So I just used one pack of chicken.
Fast forward a whole day to Sunday. What should I make for dinner?? Hmmmm... I have those chicken breasts, they aren't frozen, I don't feel like going to the store or thawing something different, it's gonna be chicken... WITH skin & bones!
I could have fried it. (Hey! why didn't I think of that yesterday??!!)
Anyway... somehow Coq au Vin popped into my head.
I ended up on an Ina Garten
recipe
. It's only slightly adapted, as I left out the cognac. If I'd had some, I would have added it, but I didn't.
Coq au Vin
1/4 lb bacon
3 lbs chicken pieces
Kosher salt and freshly ground black pepper
1/2 pound carrots, (I just cut some faux baby carrots)
1 yellow onion, sliced (I used a white one)
3 cloves chopped garlic
1/2 bottle (375 ml) Zinfindel (It called for Burgundy... this is what I had... wine review to follow!)
1 C chicken stock
10 fresh thyme sprigs
2 tablespoons unsalted butter, at room temperature, divided
1 1/2 tablespoons all-purpose flour
1/2 pound frozen small whole onions
1 pound cremini mushrooms, stems removed and thickly sliced
Preheat oven to 275F
Pat dry and season chicken with salt and pepper.
In a large Dutch oven, cook bacon until lightly browned and removed to plate.
Brown chicken on all sides in Dutch oven. When nicely browned, remove to plate with bacon.
Add sliced onions (not pearl onions) and carrots to pan and cook until onions are lightly browned, about 10 minutes. Add garlic and cook 1 more minute.
Add chicken and bacon and any juices on the plate back to the pan.
Pour in wine, chicken stock and thyme. Bring to a simmer.
Cover Dutch oven with a tight fitting lid and put in preheated oven for 30 - 40 minutes, until chicken is cooked through. Then removed pot from the oven and put it back on the stove.
Mash together 1 TBLS butter and flour to make a paste and add to pot. Add frozen pearl onions.
In a skillet, saute mushrooms in remaining tablespoon of butter until browned and add to pot.
Bring to a simmer and cook for 10 more minutes.
Enjoy!!!
~~~~~~~~~~~~~~~~~~~~~~~~~~~~~~
Ok... so here we go!
Season the chicken.
Cook the bacon.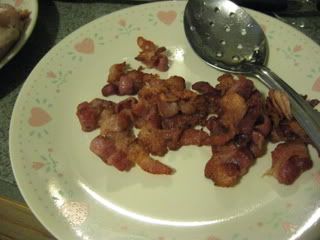 Now brown the chicken breasts in the bacon fat.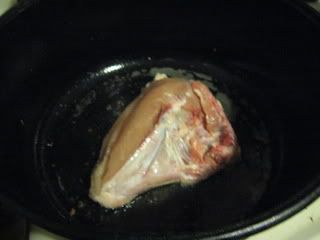 Ok... bacon & chicken... cooked & browned and set aside.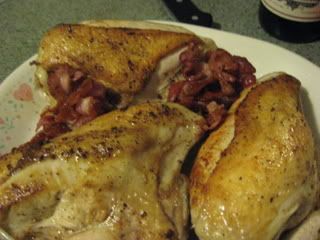 In go the carrots & onions... then garlic.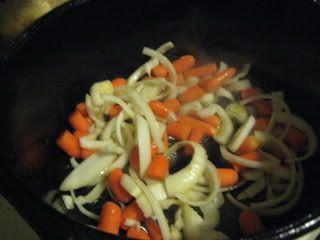 Yum!
Now time to add the meat back to the pot.
And the wine, chicken stock and thyme.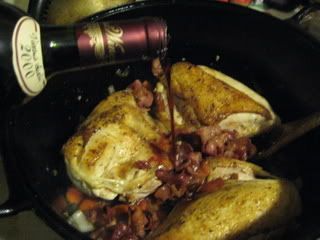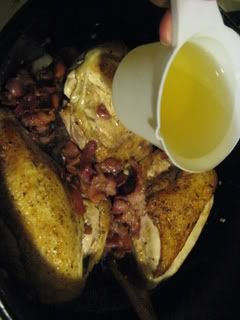 Covered and into the oven!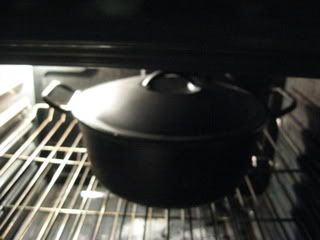 Mash the butter & flour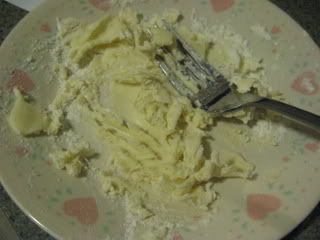 Stir that in.
Add the onions
Saute those lovely mushrooms.
Add the mushrooms to the pot.
Simmer that for 10 more minutes.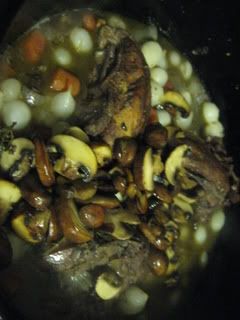 And it's dinner time!!!
I served it with mashed Yukon Gold Potatoes.
I think next time I make this, I'd add the mushrooms & onions half way through the oven time. They would really benefit from being in that yummy wine sauce longer.
You know... growing up, my mom used to make chicken in her electric frying pan with red wine. I've asked her for the recipe and she doesn't remember it at all! I LOVED it! She made it often. I guess it wasn't a favorite for her. Most people have suggested it was Coq au Vin. It probably was her quick weeknight dinner version of this. The flavors were really similar and I could see how you could easily do it in an electric skillet. So Mum... I'm now calling your chicken... Coq au Vin! (which it technically was)
Oh.. and a note... although my chicken didn't turn purple (mum's never did either) unless you get a good sear (and maybe even if you do) your chicken could turn purple from the wine. Just a common comment I noticed when looking at different Coq au Vin recipes. So if you try this and your chicken is purple, don't be alarmed! It's perfectly normal.
This was a great dinner! And my family didn't complain about the bones & skin...
ok... they didn't complain too much!