First I just want to say, "Mum! You will LOVE these!!!"
Second, Donna... these totally ROCK!!!!!
When I saw this recipe over at
My Tasty Treasures
I knew I HAD to make them!!!
I'm so glad I did!! They are so good!! Not too sweet, pecany, light, fluffy, super yummy!!
I would make everyone go to
My Tasty Treasures
to read Donna's recipe first hand over there, but I know my mom can't read Blogger at work and I know she'll love these. (Mum subscribes to my blog via email... you can too! Sign up on the left!) But if you are able, go to
My Tasty Treasures
and check out this recipe and everything else she has over there. You will be glad you did!!
I would happily eat at Donna's house every single day!!
Donna's Toasted Pecan Baby Cakes
1 C butter, softened
1 1/2 C granulated sugar
2 1/2 tsp baking powder
1 tsp vanilla
1/2 tsp salt
3 eggs
2 1/4 C flour
1/2 C pecans, toasted & ground
1 1/4 C milk
powdered sugar
Preheat oven to 350F. Grease and flour 24 - 2.5in muffin cups.
In a large bowl beat butter for 30 seconds. Gradually add sugar, beating until well combined, scraping sides of bowl occasionally.
Beat in baking powder, vanilla and salt.
Add eggs one at a time, beating on low after each addition, just until combined.
In a medium bowl combine flour and ground pecans. Alternately add flour mixture and milk to butter mixture, beating on low speed after each addition until well combined. Spoon batter into prepared muffin cups.
Bake for 15 - 18 minutes or until pick stuck into center comes out clean. Cool cakes in pans on wire racks for 5 minutes. Remove from pans and cool completely. Sprinkle with powdered sugar just before serving.
Note: To make ahead, prepare Pecan Baby Cakes and cool completely. Place in airtight container. Seal & label. Freeze for up to one month. Let stand at room temperature for 1 hour up to 24 hours before serving. Sprinkle with powdered sugar and enjoy!!
~~~~~~~~~~~~~~~~~~~~~~~
I wanted to make these heart shaped for Valentine's Day and my muffin cups were slightly on the small side. I should have just filled them a little less and make more cakes... but I didn't!
Since I filled them too full... they came out a little pregnant looking.
They were so puffy on top that they were no longer really heart shaped. So I decided to sugar the bottoms and let them lean up on their puffy toasted pecan bellies.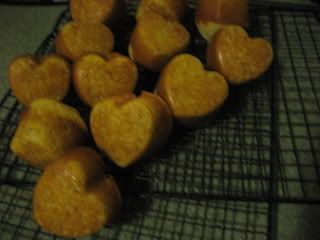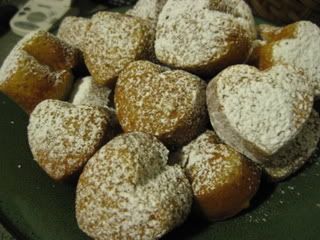 This is definitely going to be a 'go to' dessert recipe for me.
These are wicked quick and easy and seriously delicious!!!
Donna this is for you!!!