I was dying to try Curried Egg Salad over the weekend. I dunno why. I dig curry and it sounded good and I had tons of eggs. So I picked up some croissants and started boiling eggs.
I asked Tawny if she wanted some and she said, "Can't you just make me one before you add the curry?" Sure.. that's fine... she likes curry... I guess she just wasn't feeling culinarily adventurous.
So... First up... Egg Salad... PLAIN!
I don't like crunchy things in my egg salad. They're fine in tuna salad or chicken salad or turkey salad... but I want my egg salad squishy... ya know? Now that I actually think about it, I want my ham salad squishy too!
Anyway... Plain Egg Salad.... one serving.
Two Eggs! (hard boiled & peeled)
Chop them up. I like to use the pastry cutter for this.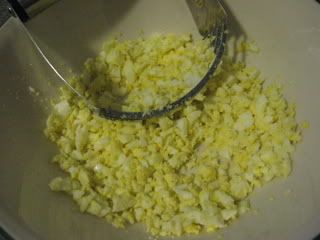 Now just add a bit of mayo and mustard. She selected plain yellow mustard. Also salt & pepper... well... since it was for Tawny, no pepper, but if it was for me, LOTS of pepper!
Mix it up!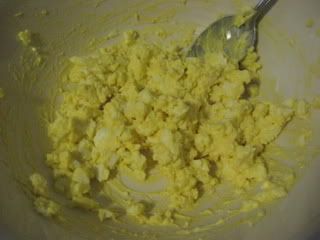 That's it. I told you it was plain. But I like it that way!
Load it into your favorite bread and enjoy!!
She thought it was pretty. The girls like having the blog food plate, because it's a little prettier than what often hits the table, since I have to make it look pretty for the pictures!
~~~~~~~~~~~~~~~~~~~~~~~
Now onto Curried Egg Salad. I also asked Jon if he wanted Curried Egg Salad. In the seven plus years we've been together, he has never accepted the offer of an egg salad sandwich, I expected a polite, "No thanks" But, he surprised me and said yes!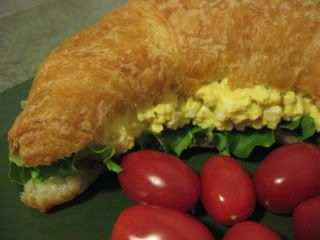 Cool... Curried Egg Salad for Two!
Four hard boiled eggs, peeled.
Chop eggs with pastry cutter.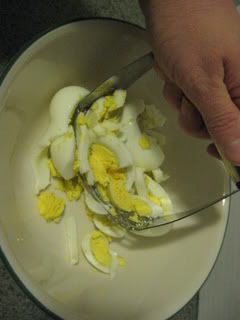 This time I added a bit of mayo, Dijon mustard, salt & pepper and sweet curry powder.
Yeah... still no crunchy things in my egg salad... save the onions & celery for the tuna!
Mix that all together.
And fill your favorite bread!
I loved it! YUM!! And guess what? Jon liked it too!