I made
Nutella Brownies
on Saturday and immediately thought they would be awesome with Coffee Ice Cream on top then drizzled with melty Nutella.
So Sunday morning I started scouring the internet for a really good coffee ice cream recipe. I used to like Haagan Dazs coffee ice cream... then StarBucks came out with their Italian Roast Coffee ice cream... which made Haagan Dazs seem to be a children's version of coffee ice cream.
I wanted intense coffee flavor... and I found it!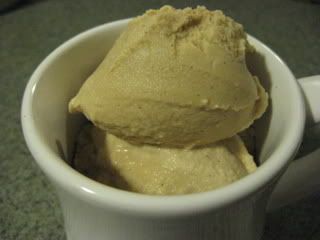 Jill at
Simple Daily Recipes
says
"I'm telling you that you will NEVER EVER taste a more delicious Espresso ice cream than what I have made here. Oh I know I sound bold, but I'm not boasting. This is a FACT!"
She's not boasting, it IS a fact!
This makes 2 FULL quarts. It completely filled my ice cream machine. Oh yeah... and this is NOT a light recipe. This is decadent delicious FULL FAT ice cream!
Jill's Espresso Ice Cream
4 cups whole milk
1 vanilla bean pod
10 egg yolks
pinch of kosher salt
1 1/2 cups sugar
2 cups heavy cream
1 cup fresh espresso
1 tablespoon sugar
In a medium saucepan, combine milk, vanilla beans and vanilla pod. Bring to a gentle simmer, cover, and remove pan from heat. Steep for 30 minutes.
Combine egg yolks and sugar in an electric mixer bowl. Use the paddle attachment to cream at medium-high speed until very thick and pale yellow, 3 to 5 minutes.
Have a large ice-water bath ready.
Pull those 4 to 5 espresso shots to make 1 cup espresso, and stir in 1 tablespoon sugar.
Return milk to a simmer. Start by slowly whisking in half the warm milk to egg-yolk mixture, until all is incorporated. Transfer the egg-milk mix to a large sauce pan. Cook over LOW heat, stirring constantly, until thick enough to coat the back of a wooden spoon, 6 to 8 minutes.
Remove saucepan from heat, stir in heavy cream. Pass mixture through a sieve set over a large bowl. Place bowl in ice-water bath and stir until chilled. Stir in cooled espresso.
Move espresso mixture to ice cream freezing can and assemble ice cream machine for freezing.
~~~~~~~~~~~~~~~~~~~~~~~~~~~~
Four cups of WHOLE milk and a vanilla bean!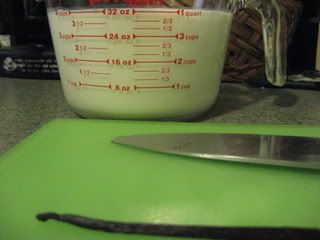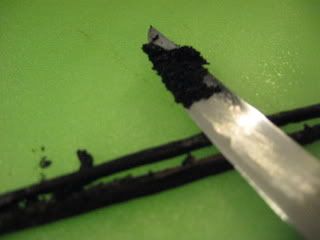 Bring to a simmer, take off heat and let steep for 30 minutes.
10 egg yolks... (with all those left over whites, it looks like there's angel food cake in my future!)
Combined with sugar and mix until thick and pale yellow.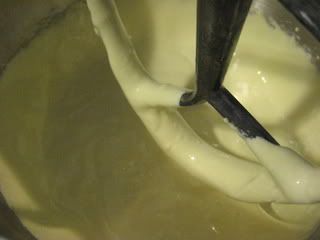 I didn't read the directions before I went to StarBucks for espresso... otherwise I would have added the sugar there. But it cooled, so I heated up to be sure the sugar dissolved; I didn't want gritty ice cream. Then put it in the fridge to chill.
I got my ice bath ready.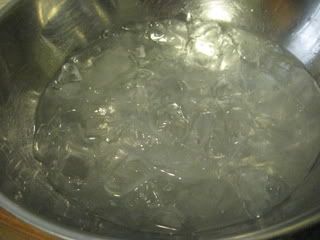 Brought the milk & vanilla back up to a simmer.... and poured half into my egg mixture.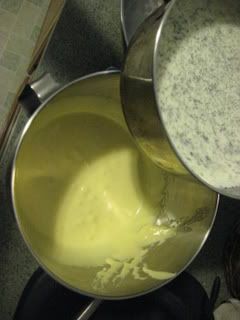 Whisk well.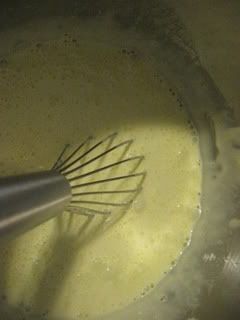 Whisk that into milk mixture. (be sure to use a large sauce pan, I had to trade up in the middle!)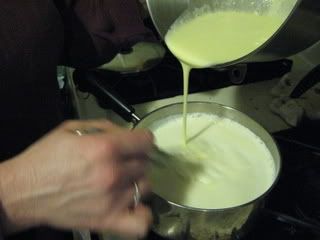 Stir stir stir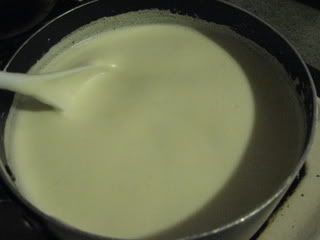 Remove pan from heat and stir in heavy cream.
Strain into bowl
And into the ice bath!
When it's chilled, stir in chilled espresso
And into your ice cream machine!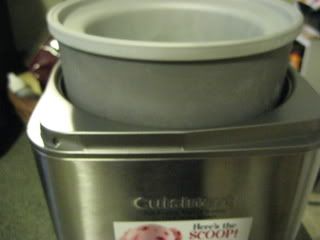 25 minutes later...
Into a container for the freezer!
Several hours later... it's time for dessert...
Just plain for Bobby...
On top of a
Nutella Brownie
with a drizzle of melty Nutella for me...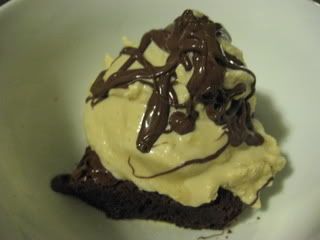 And the works for Jon, Tawny & Lilly!
Thanks Jill! This is for you!!