More food from Valentine's Day!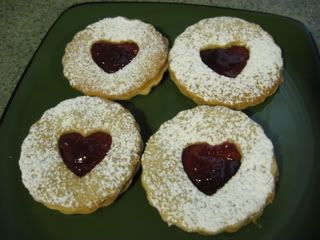 I LOVE Linzer Cookies, but for a very long time, it never occurred to me that I could make them myself.
I used to get them at the bakery in the Stop & Shop that was near my house in
Beverly
. They were great! I moved away and Linzer Cookies just didn't look as good anywhere else.
When I decided to have a Valentine's Day Wine Tasting Party, I also decided that Linzer Cookies needed to be on the menu!
I looked around the internet at recipes.... and mostly, they are all very similar.
This is adapted from a
Southern Living recipe
Linzer Cookies
1 1/4 C butter
1 C powdered sugar
2 1/2 C flour
1/2 C almonds, toasted & finely chopped
1/4 tsp cloves
1/4 tsp cinnamon
1 1/2 tsp lemon zest
1/4 - 1/3 C raspberry jam
powdered sugar
Beat butter and powdered sugar until fluffy.
In a separate bowl combine flour, almonds, cloves, cinnamon and lemon zest.
Slowly mix with butter mixture until just blended.
Divide dough into two equal portions and refrigerate for an hour.
Preheat oven to 325F
One dough ball will be cookie bottoms and the other will be cookie tops (and cutouts)
Using a cutter 2.5 - 3 inch cookie cutter, cut out cookie bottoms. Bake cookies on a parchment paper lined cookie sheet for approximately 15 minutes.
For the cookie tops, use the same cutter as the bottoms, but cut a smaller shape out of the center. Your cookie frames & centers will bake a little faster than your solid cookies.
Cool cookies on a wire rack.
Dust the cookie tops & cutouts with powdered sugar.
Gently warm the raspberry jam. Spread the warmed jam on the solid cookie bottoms. Top with a cookie frame and fill the cut out with more jam.
These might sound a little complicated, but they were so easy!!
Enjoy!
~~~~~~~~~~~~~~~~~~~~~~~
Start off by toasting the almonds. You can do it in the oven or in a skillet.
Mine could have been a little toastier!
Grind them in a food processor or blender.
Beat the butter and powdered sugar until fluffy.
Combine flour, almonds, cinnamon, cloves & lemon zest.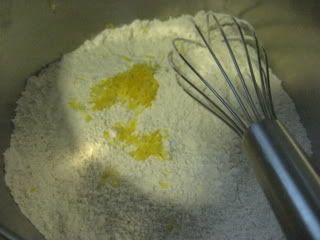 Add to butter mixture and beat until just blended.
Divide into two equal parts and chill for an hour.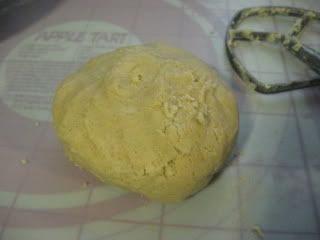 Fast forward one hour...
On a lightly floured surface, roll out dough.
Cut out solid base cookies.
Bake on a parchment paper lined cookie sheet.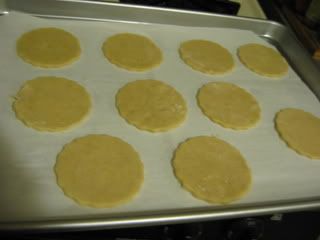 And cool on wire rack.
Now it's time to cut out the cookie tops.
They bake a little quicker, so be sure to watch them.
When they are cooled, sprinkle them with powdered sugar.
Time to spread the bottoms with jam. Raspberry is my favorite, but you can use whatever kind you like!
Pick up the cookie and turn it over the jam spreads on the part that was against the cookie sheet.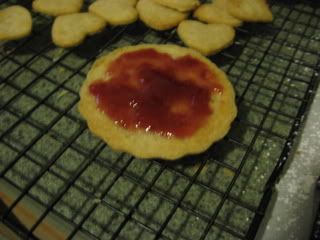 Cover it with a powdered sugar dusted cookie top.
And add a little more jam to the cut out.
That's it!!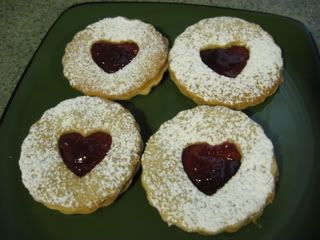 You could make little sandwich cookies out of the cutouts, but I just dusted them all with powdered sugar.
And apparently I don't have a picture of them!
They were all really good!! And so much easier than I thought they'd be!