I saw these on Amber's blog over at
Amber's Delectable Delights
. As soon as I saw them I thought they'd be perfect for the SuperBowl.
I tend to plan too many things, so even though I bought the stuff to make them, I didn't think I'd have time.
As it turned out, I planned very well for a change and was ready wicked early. So I was very excited to have plenty of time to keep these in the menu!
It's a good thing too... they were a HUGE hit and disappeared almost as soon as I put them on the table!
You can check out Amber's recipe
here
.
And you can check out my pics right here =)
I cut my scrubbed potatoes into 1/4 in slices and put them on a cookie sheet sprayed with cooking spray.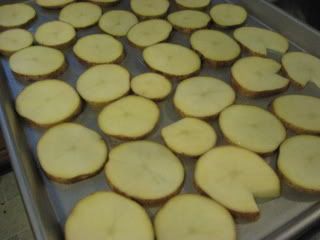 Seasoned both sides with salt, pepper and smoked paprika.
Cook for 30 minutes in preheated oven.
Flip and bake 15 more minutes.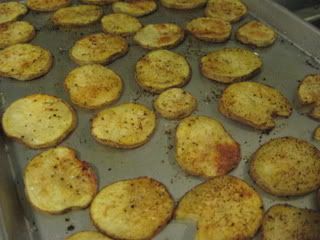 Add cheese.
And cooked bacon.
And back into the oven until melty.
Garnish with green onions and devour!!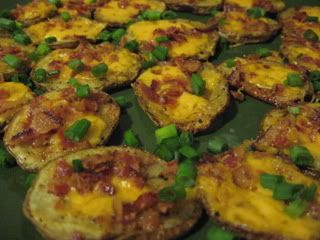 Amber these ROCKED! Everyone loved them!
This is for you!