So it's been a crazy week. Getting ready for the Super Bowl (and winning!) and trying (and succeeding) to win a KitchenAid Food Processor from
BakeSpace
!
So really quick... I just wanted to put up last night's dinner.
Honey Curry Wings ~ YUM!
Jon (aka Hector) makes all the wing sauce in our house. Last night I realized that they all start with Frank's Red Hot Pepper Sauce and get tweaked from there.
When he was making his Curry Habanero Sauce for the SuperBowl (SIX-PACK BABY!!!) I was taking a shower. He tasted the sauce before he added all the peppers and thought I'd really like it. So he brought me a chip dipped in the habanero-less sauce. I LOVED it! But of course, the SuperBowl calls for HOT wings... and at my house, the hotter the better.
Anyway.... I had about 3 lbs of unfried wings, due to a lower guest count than anticipated, so I fried them up last night.
I asked Jon how he'd like them and told him that I didn't really want to do hot wings this time.
He suggested the sauce that I loved in the shower! Yay!! Great idea!!
Soooo... I just named it Honey Curry Sauce. Sticky things usually freak me out, but I love lots of honey in the wing sauce.
Jon cut the recipe in half, which ended up perfect for my 3.19lbs of wings.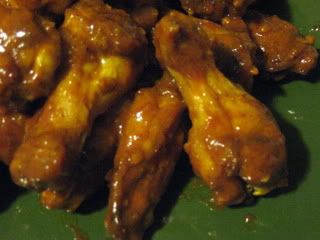 Honey Curry Sauce (this is the 1/2 recipe)
1/2 C Frank's Red Hot Pepper Sauce
1/2 C butter
3 cloves of garlic, minced
1/4 C honey
1/4 C Dijon mustard
1 Tbls sweet curry
1 tsp cumin
1 tsp chili powder
1/2 tsp salt
big splash of tequila
Mince garlic. Saute garlic in a sauce pan with a bit of oil. Deglaze pan with a big splash of tequila.
Add Frank's and butter and whisk. Add mustard and honey and whisk some more.
Now add the curry, cumin, chili powder and salt.
Simmer for 10 minutes and toss with
wings
!
~~~~~~~~~~~~~~~~~~~~~~~~~~~~~~~~~~
Ok... so saute your garlic
I must have missed the tequila.... but that goes in next...
Then add butter & Franks...
Next up... mustard and honey...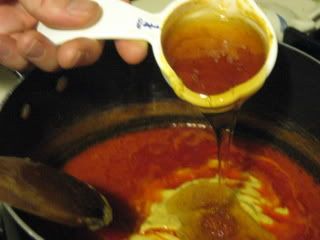 And your spices...
Whisk... whisk... whisk...
Then just let it simmer for about 10 minutes. You can set it to low while you fry up your wings.
I like to use fresh, never frozen chicken wings. I think they come out crispier.
I dump them into a bowl and pat them dry with a kitchen towel (make sure that towel goes directly into the laundry!)
Then I season them with seasoned salt & freshly ground black pepper.
Get your oil heated up to 350F - 375F. I like to start at 375F, because adding the wings instantly drops the temperature. Then I try to keep it around 350F.
Gently add your wings to the oil.. be careful... it could really splash and bubble up.
Fry until golden brown... usually around 10 minutes.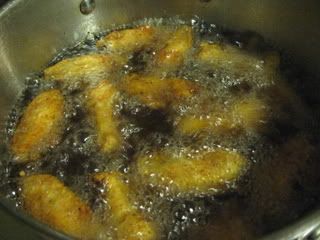 Gently remove them from the oil.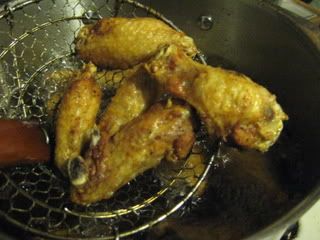 I usually just put them on a wire rack, or a rack covered with one of my cloth kitchen napkins. I had paper napkins left over from the SuperBowl, so I covered my wire rack with those.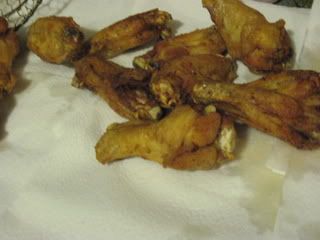 Don't those look good??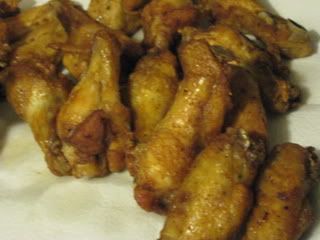 Ok... now for the sauce.
I like to use a plastic bowl with a cover.
I put a little sauce in the bottom.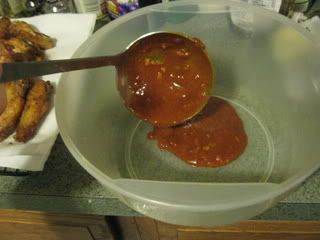 Then add some wings.
And some more sauce. (this batch of sauce is perfect for around 3lbs of wings)
Cover it up tightly (you definitely don't want the lid to come off while you're shaking it!)
Shake it baby!
All sauced up and ready to eat!!
Yeah... I didn't make anything to go with it... just wings!
Jon and I are the perfect wing eating couple. He likes the drummettes and I like the flat part.
He's a much neater wing eater than I am. Bones all stacked neatly as he moves on to the next.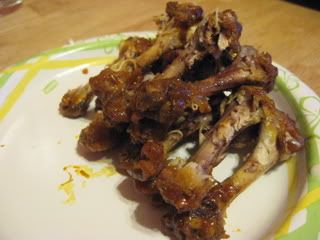 Mine... haphazardly tossed away as a grab for another one!
They were sooooo good!!!!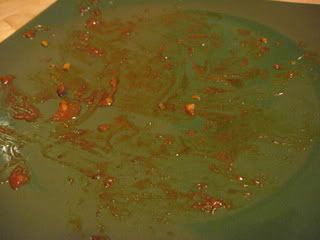 ~~~~~~~~~~~~~~~~~~~~~~~~~~~~~~~~~~~
Did she say KitchenAid?
So about now you're thinking, "the wings look good" (or not!) But she mentioned WINNING a KitchenAid Food Processor... how'd she do that??? And can
I
win one????
Well... The answer is YES YOU CAN!!!
BakeSpace
and
KitchenAid
are giving away a KitchenAid Appliance A Day for the month of February. You can win by joining BakeSpace, entering your recipes and getting other people to join. They are also giving away TWO... yes, I said TWO, Grand Prize KitchenAid Stand Mixers on March 1st.
Not a
BakeSpace
member yet?
Doncha think it's time you joined??