Kalua Pua'a means Pig in a Pit. I typically never have a whole pig (Ok I've really NEVER had a whole pig!)... so I use a Boston Butt (why do they call it a butt anyway? It's a shoulder!!) And since my house is entirely surrounded by concrete... the 'pit' is my oven!
I made this for the first time several years ago when I had a luau New Year's Eve Party. It was a huge hit and I usually make it a couple times a year.
I was trying to think of things besides spicy things and dippy things to make for the SuperBowl. Also, it had to be easy, because I wanted to be able to watch the game too!
Kalua Pua'a! Perfect... toss that baby into the oven, and it will just need shredding later. Then a little while before the game, I just put it into a crock pot to keep warm. The only hard part would be finding King's Hawaiian Rolls to serve it on! (none of my local stores consistently have them)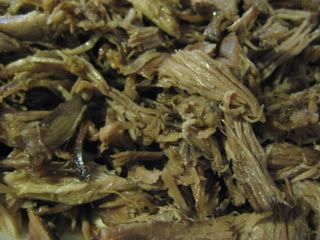 3 lb Pork Butt Roast
2 C water
1/4 C liquid smoke
1/4 Kosher salt (or Hawaiian sea salt)
Put roast fat side up in a baking pan or Dutch oven.
Mix water and liquid smoke pour over roast and rub in.
Cover roast with salt.
Cover pan with a tight fitting lid or tightly sealed foil.
Bake at 350 for 3.5 hours.
Remove from oven.
Shred meat with forks, pour liquid back into meat.
We made sandwiches on Kings Hawaiian Sweet bread... Portuguese bread would be really good too... or Filipino
Pan de Sal
.
How easy is that??!!
~~~~~~~~~~~~~~~~~~~~~~~~~~~~~~~~~~~~~~
I like to use my cast iron dutch oven for this.
Put your pork butt into the pot, fat side up.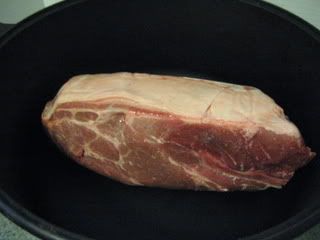 Now you need to mix the liquid smoke with the water. I like hickory for this. You could try mesquite... or whatever flavor smoke you like. (those are the only two flavors I've ever seen)
Pour it over the pork and rub it in.
Now for the salt. I try to keep all of the salt right on top of the meat. I know it sounds like a TON of salt... but it makes a crust that you will just pull off. I promise... the meat isn't wicked salty when you're done!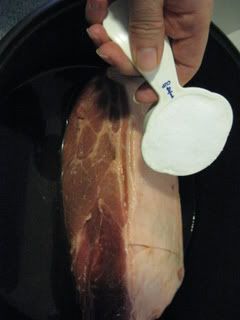 Cover it up... I also like to seal the top with foil.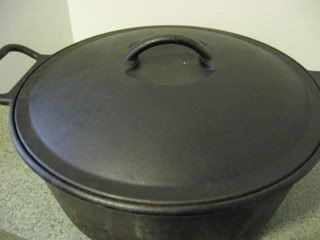 Now into the oven for 3.5 hours.
Ok... this is the side view of pork when it comes out. You can see the salt crust at the top edge.
The salt lifts right off.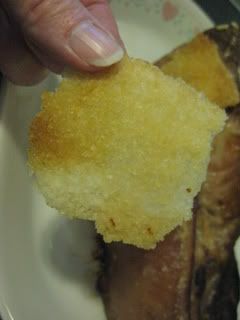 That fat cap also peels right off.
That fat seems to surround lobes of meat and is really easy to separate. Fat freaks me out... so I really go through and pull it out and toss it into a garbage bowl as I go.
Now just shred it with forks.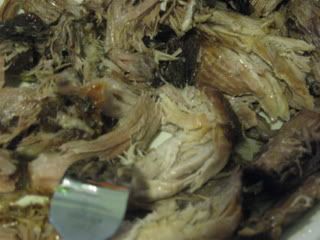 Now even though I covered my pan with foil, most of the liquid cooked out of it. So I just added some water and whisked it to get some of the yummy pan juices to add to my shredded meat. (again.. promise it's not salty)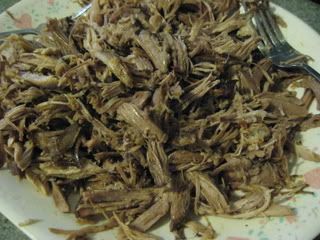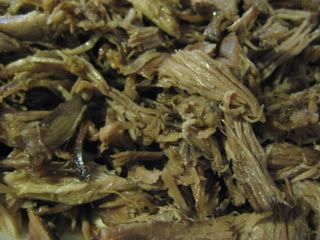 Ok... time to eat! (yeah... these are slider sized... so you'll want to eat a lot of them!!)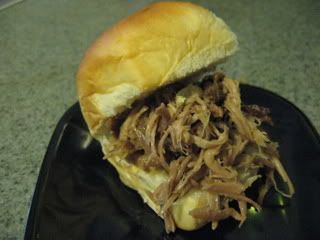 I hope you like them as much as we do!