Fried Rice is so easy to make. I always forget about it. But it's a fast and easy main dish or side dish. Plus you can make it with whatever you have on hand.
When I'm planning to make it, I use Spam. I know, a bunch of you just cringed, but that's how I learned. Spam Fried Rice!
But you can use whatever meat you have and whatever veggies you have... and you don't have to use meat if you want to go veggie... and you can also omit the eggs if you want to go vegan (probably the oyster sauce too, I'd have to read the ingredients)
I chop up some veggies
And some Spam!
And toss it into my BIG cast iron skillet.
Add the veggies (wow... it looked like more than that on the cutting board!)
Whisk together a few eggs. (I think I used 5 or 6 for this big batch)
Then I move the meat and veggies to the edges of the pan and scramble the eggs in the middle. This usually works well.. but of course this time for the picture, I got eggs in the meat & veggies... which still works out fine... I just like to cook the eggs in the middle before I mix them.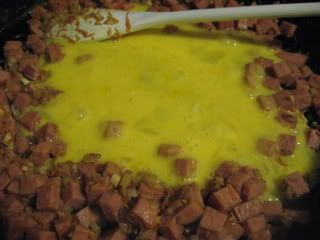 Now add rice. This is a PERFECT use for leftover rice.
Add some soy sauce and pepper
Jon likes peas in his fried rice, so I threw in a handful.
Some oyster sauce for another level of flavor.
A handful of green onions.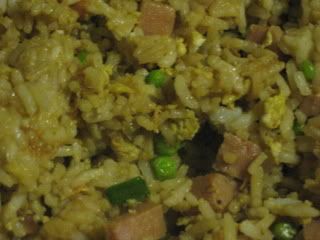 It's dinner time!