July 24 is National Tequila Day!!
Why not celebrate with a Cranberry Lime Margarita?
It was a Saturday morning. I left to go out for coffee and shopping with Ericka (who would be returning with her hubby later that evening for dinner at our house)
I told Jon I wanted some kinda tequila cocktails for our dinner party that night and I wanted them to be pink!
My awesome hubby came up with this!
Cranberry Lime Margaritas
2 oz reposado tequila
3 oz cranberry juice
1 oz lime juice, fresh squeezed
2 oz triple sec
lime slice for garnish
Shake tequila, cramberry juice, lime juice and triple sec in a shaker with ice.
Pour into glasses and garnish with lime.
Ericka and I decided this would be nice rimmed with sugar (for Ericka) or salt (for me). Also we both would have preferred it on the rocks... still shaken... but on the rocks.
These were so good! Exactly what I was looking for!
Great job!! Thanks Baby!!
Looking for more tequila recipes?
How about a
Rested Rosemary
or a
POM-a-RITA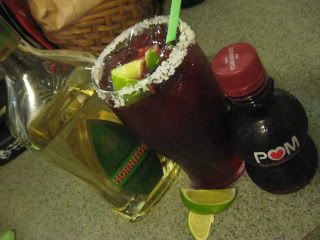 Happy National Tequila Day!! It's 5 o'clock somewhere, right?