A long time ago I had some peach mango salsa and really liked it! I've been trying, without much success, to find some that I liked ever since... until now.
This is adapted from a recipe I found on
Winner Dinners,
, while browsing
tastespotting.com
.
This was wicked good!! It's a good thing too, because I had a good bit of drama while making it!!
Nectarine Mango Salsa
1-1/2 C fresh tomatoes, peeled and chopped
3 ripe nectarines, chopped
1 ripe mango, peeled and chopped
3/4 C red bell pepper, chopped
1 C onions, chopped
1/2 C cilantro, chopped
4 TBLS jalapeno pepper, seeded and chopped
3 cloves garlic, minced
1/4 cup tomato paste
1 TBLS apple cider vinegar
1 tsp lemon juice
2 TBLS sugar
1 tsp dried oregano
2 tsp salt
1/8 tsp pepper
tortilla chips
Peel the tomatoes by dropping them into boiling water for about a minute and then running them under cold water. The peels should come off easily.
Chop the tomatoes and place in a medium-sized bowl.
Chop the nectarines and mango and add to the bowl.
Chop the red bell pepper, onions, and cilantro and add to the bowl.
Chop the jalapeno and mince the garlic and add to the bowl.
In a separate small bowl, combine the tomato paste with the apple cider vinegar, lemon juice, sugar, oregano, salt, and pepper.
Stir well and then add to the larger bowl.
Mix again and serve with tortilla chips.
~~~~~~~~~~~~~~~~~~~~~~~
This is what you need... well.. the produce anyway...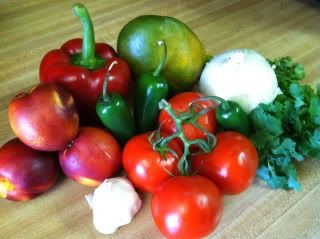 Next peel the tomatoes.
I had never done this before... it's so easy!
Boil a pot of water... drop in the tomatoes...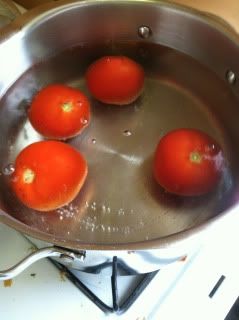 Let them boil for 1 minute. Rinse under cold water.
The skins pull right off!
Who knew it was so easy??
Ok... chop those and put them in a bowl.
Chop mango and nectarines.
That part took me awhile. They're so slippery!! Plus I was watching
Ahmed Hassan
on Yard Crashers while I was chopping... He's a little... distracting... *swoon*... anyway...
Then I started chopping jalapenos.
Around that time Jon had missed the last bus to his friend's house. It's not too far away, but it was a gazillion degrees out, so I said I'd give him a ride. (We only have one car, and I needed it later) So I was still in my jammies, no bra... no shoes, my hair probably wasn't brushed. I figured, I'm just running down the street, I'll be right back... no one will see me.
We jump in the car... I drop him off... I'm just pulling away from his friend's house and I wiped my eye with the tip of my finger.
See the pic above?
It doesn't look ominous does it?
Well let me tell ya, instant BLINDING searing pain in my eye... Did I mention I was driving??
Both eyes slammed shut!
So I was trying to pull over... I knew there were cars parked beside me and I was vaguely aware of a few pedestrians.
I very slowly creeped the car over to the right and was able to get out of the street without hitting anything or anyone.
I was in my car, bent over the steering wheel, swearing, eyes burning and running, barely able to open them, hair a mess, in my jammies, no bra, no shoes, and I hear a tap at my window.
I kinda squint in that direction, because I'm still only barely able to open my untouched eye a little bit and roll down the window.
There was a guy there and he said, "My wife noticed you had a really hard time pulling over and she wanted to make sure you're ok"
I told him I was fine, just stupid and that I had just rubbed fresh jalapeno juice into my eye.
He chuckled a bit. I thanked him for checking on me and he went about his day.
It took me a few more minutes before I could actually see enough to drive.
I guess it's a good thing I wasn't on a highway!
So... let this be a lesson to you.
If you're cutting hot peppers, WASH YOUR HANDS... then wash them again!!!
Or wear gloves.
Thank you for checking on me kind strangers!!
Ok... back to the salsa.
Chop the jalapeno, onion, red pepper, cilantro, and garlic and add them to the tomatoes, mango and nectarines.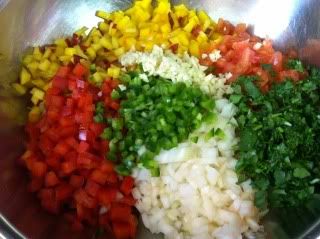 Gently stir until mixed well.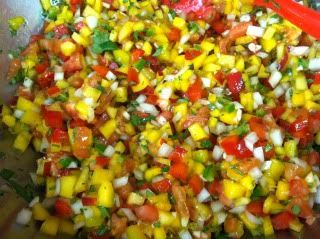 In a separate small bowl whisk together, tomato paste, apple cider vinegar, lemon juice, sugar, oregano, salt and pepper.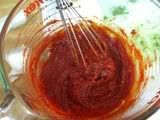 Add the sauce mixture to the fruit/veggie mixture
Stir gently until well combined.
Now it's ready to serve with tortilla chips!
We enjoyed this on the porch with some Peachy White Zinfandel Sangria... stay tuned for that recipe!!
It's a very flavorful salsa, sweet, a little spicy, a bit of crunch from the onions & peppers, yummy cilantro. Definitely a winner... well... unless like Jon, you don't care for cilantro. But I LOVE this! And I'm happy that my search for nectarine (peach) mango salsa has ended.
This makes a huge batch of salsa! So invite over a bunch of friends. Or put some in pretty jars to give to your neighbors. But it also keeps well in the fridge for a few days, so you can keep it all for yourself too!