Molly over at POM Wonderful was kind enough to send me a case of
POM Wonderful
100% Pomegranate Juice.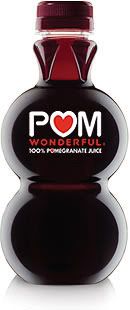 I have to say... I was pretty excited when it arrived in the mail yesterday.
Eight, eight ounce bottles of that fabulous, deep, rich, red, tart and sweet juice!
What to make first? Ok... yesterday was a little busy. So I just popped it in the fridge to ponder my options.
I was remembering the Pomegranate Jelly one of my co-workers in California used to bring to work. It was sooooo good!!! I always wanted to try my hand at making it, but prepping all those pomegranates? That seemed like a lot of work. Maybe I can make some with this juice!!
But that's definitely not a Friday night project.
The perfect Friday night project would be a POM-a-RITA!
My husband Jon makes the BEST margaritas on the planet. I know if we have all of the ingredients in the house, all I have to do is ask and he'll make me a margarita that will totally melt away all the stress of the day in just two sips.
So when I got home tonight, I asked him to make me one, but with
POM Wonderful
100% Pomegranate Juice instead of sweet & sour.
He readily agreed! YAY! He's so cool. =)
Thanks Baby!! *kiss*
So he gathered the ingredients.
OK... how lame is that pic?? My kitchen is so small that I have no place that doesn't have the coffee maker & supplies, the kitchen sink, the toaster oven, the FoodSaver, or a bunch of spices that don't fit in the spice cabinet, in the background... so every once in a while, when the background just looks too busy... I pull out this white project board.
It really isn't any better.
Oh well... someday I'll have a big spacious kitchen...
Anyway... this is what you need.
POM-a-RITA
2 parts Sauza Hornitos Reposado (my FAVORITE tequila)
1 part triple sec
3 parts
POM Wonderful
100% Pomegranate Juice
a little Rose's Lime Juice
a lime, cut into wedges
ice
salt
Pour about a tablespoon of Rose's Lime Juice in a saucer and dip the rim of a glass in it.
Then dip the rim of the glass into some Kosher salt.
Set the glass aside.
Fill a cocktail shaker about 2/3rds full of ice.
Pour the Rose's Lime Juice into the shaker and add the tequila, triple sec,
POM Wonderful
100% Pomegranate Juice.
Cover and shake vigorously, then pour into the salt rimmed glass.
Squeeze 3 or 4 lime wedges (I love lime) into the glass, toss the squeezed lime wedges into the glass.
Enjoy!!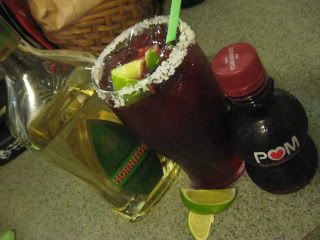 These were AWESOME!!!
Perfect mix of sweet and tart for a perfect POM-a-RITA!
You will definitely see more POM recipes here!!
If you haven't tried
POM Wonderful
100% Pomegranate Juice yet, run out and get some now!
Not only does it taste great, it's wicked healthy!!
Healthy AND tastes good?? Don't believe me? Check
THIS
out!
Thanks Molly!! You ROCK!!