My friend, Erin & I had been dying for grilled shrimp for quite a while. Ericka was in town for the weekend, so I decided it was a perfect time to make it!
I kinda dawdled trying to find a recipe for the marinade. I had looked at a few that looked OK, but nothing looked really
great
.
So finally... being the procrasti-slacker that I am... the morning of dinner, I jumped online again to look for a marinade.
Not wanting to waste time, I went to allrecipes.com. I found a five star recipe with over 1600 reviews. Even with people reviewing... and changing ALL of the ingredients before they make it, I figured this had to be a good one... and let me tell ya, I was NOT disappointed!!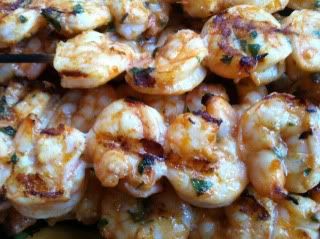 Marinated Grilled Shrimp
3 cloves garlic, minced
1/3 cup olive oil
1/4 cup tomato sauce
2 tablespoons red wine vinegar
2 tablespoons chopped fresh basil
1/2 teaspoon salt
1/4 teaspoon cayenne pepper (more or less to taste)
2 pounds fresh shrimp, peeled and deveined
In a large bowl, stir together the garlic, olive oil, tomato sauce, and red wine vinegar.
Season with basil, salt, and cayenne pepper.
Add shrimp to the bowl, and stir until evenly coated.
Cover, and refrigerate for 30 minutes to 1 hour, stirring once or twice.
Thread shrimp onto skewers, piercing once near the tail and once near the head.
Discard marinade.
Preheat grill for medium heat.
Lightly oil grill grate.
Cook shrimp on preheated grill for 2 to 3 minutes per side, or until opaque.
~~~~~~~~~~~~~~~~~~~~~~~~~~~~~~
So I doubled this recipe. I started with a 5 pound bag of frozen shrimp. (I left a pound in the freezer)
Since I procrasti-slacked, I had to thaw mine in the sink under cold water instead of in the fridge.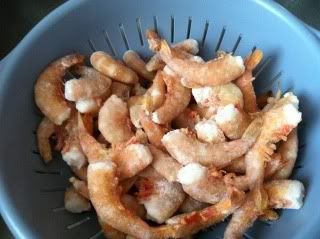 Then I set up my peel & clean station in the sink.
Colander filled with thawing shrimp. Empty colander for peeled, cleaned shrimp and a ziplock bag to collect the shells to make stock at a later date.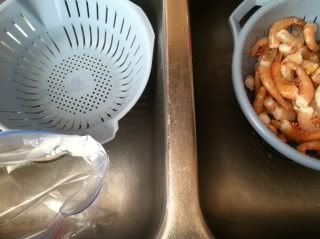 The shells & legs pull off easily, put them in the ziplock bag.
To devein the shrimp, just slice along the center back, pull out the vein and wash it down the drain.
Now I have a big bag of shrimp shells to make stock!
Just store them in the freezer.
And a big bowl of cleaned shrimps!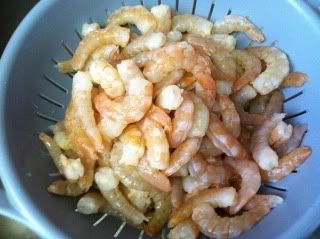 Whisk everything together... I added extra cayenne, because we like it spicy...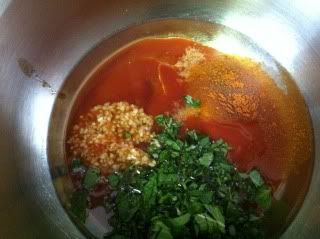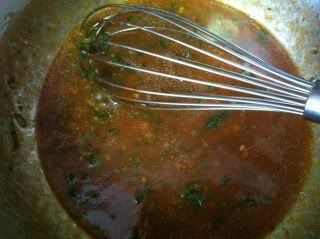 I put the shrimps and the marinade in a ziplock bag and into the fridge.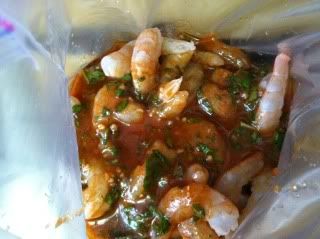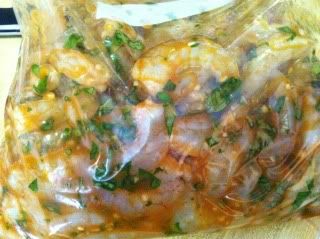 After about an hour I skewered them on wooden skewers that had been soaking in water for about an hour.
I put them in a glass baking dish for easy storage until I was ready to grill.
I also poured the leftover marinade over them, since it would still be a little while before I was ready for grilling.
Then onto a pre-heated grill.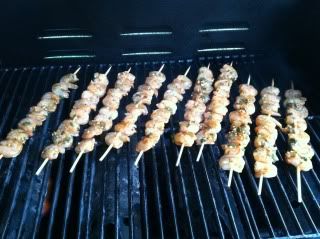 Flip
And it's dinner time!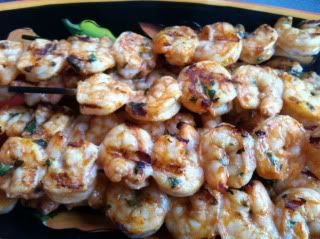 I spiced mine up a good bit, but they weren't too spicy.
These shrimps were a HUGE success. Everyone really really loved them. I can't say enough about how delectably delicious they were!
If you actually have leftovers, which I doubt you will... they'd be awesome on a salad or in a wrap.
Plus they were so easy!!
To BlondiePerez on allrecipes.com.... Well done!!
I'm going to be trying this marinade on chicken, beef and pork!
If you want to leave your dinner guests, ooooing and ahhhhing over your mad culinary skills... I highly recommend you try this!