Let me start by saying I'm usually awful at making rice from scratch.
When I make Mexican/TexMex, I usually make rice from a box mix. Jon's not a huge fan of those, but I really do like them.
I'd made
Mexican Rice
once before from scratch and it was tasty, but since I've never made it again, I guess not so memorable.
I was watching Marcella Valladolid's
Mexican Made Easy
one day and she made
Arroz Mexicano
. It looked so easy! I found her recipe online and gave it a try.
Foolproof Mexican Rice
3 vine-ripened tomatoes (or one 15 oz can whole tomatoes)
2 cups chicken broth, plus more as needed
1 tablespoon olive oil
1 large chopped onion
1 large finely diced carrot
1 large garlic clove, minced
2 cups medium-grain rice
2 teaspoons salt
1 bay leaf
1 whole serrano chile
2 TBLS tomato paste
1/4 cup fresh or frozen peas, thawed
Cut the tomatoes in half, and remove the seeds. If using canned, just put them in the blender.
Add the tomatoes and 2 cups of broth to a blender and puree.
Strain into a bowl and reserve the liquid.
Add enough extra broth to make 4 cups of liquid.
In a large saucepan, heat the oil over medium-high heat.
Add the onion and carrots and saute for 4 minutes until the onion is translucent.
Add the garlic and saute for 1 minute.
Stir in the rice and cook until slightly toasted, about 3 minutes.
Add the tomato broth mixture, stir and bring to boil.
Add the salt, bay leaf, tomato paste and the serrano chile.
Reduce the heat, cover and simmer until the rice is tender, about 20 minutes.
Remove the pan from heat.
Scatter the peas over the top of the rice, cover, and let the rice stand 5 minutes.
Fluff the rice with a fork, transfer to a serving bowl and serve.
~~~~~~~~~~~~~~~~~~~~~~~~~~
I start by prepping the tomatoes.
When I don't have fresh tomatoes, I just use a 15 oz can of whole tomatoes and pour the whole thing into the blender.
But I had some this time.
Then blend with 2 cups of chicken broth, sometimes I use veggie broth.
And strain that into a 4 cup measuring cup.
Top it up to 4 cups with more broth.
Now... onions and carrots into the pot with oil.
After about 4 minutes, add the garlic and saute for about a minute.
Then add the rice and cook a few minutes, until a little toasted
Add the tomato broth mixture and stir and cook until boiling.
Then add salt, tomato paste, bay leaf and serrano pepper.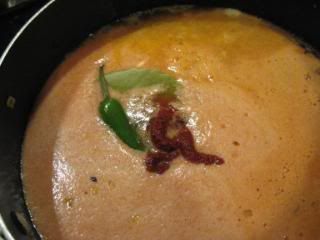 Cover and simmer until the rice is tender. Remove from heat.
Sprinkle the peas in and cover the pan and let rest 5 minutes.
Fluff with fork and it's ready to serve!
A perfect side dish!!
This rice is wicked easy and wicked good!!
It's mildly flavored and really goes well with everything. It's definitely Jon's favorite. Bobby loves it too. And even though I do still like my Rice-a-Roni... I really LOVE this rice!!! It takes no longer to make than the prepackaged stuff and is just so much better!!
And
... it means I don't suck at making rice anymore!!!!