So last semester, my daughter had a job out by her school. That meant she rarely came home for the weekend. But one weekend, she ended up with rare time off and was in Pittsburgh.
I wanted to make something to ensure she'd eat at least one meal with us and not be off gallivanting around Pittsburgh the whole time. I was kind of thinking that out loud and Jon said, "Just make
Fried Chicken
. She'll definitely come home."
He's so right! (Jon, bookmark this page... I put it in writing for the whole world to see!)
One meal sure to get Tawny to the table is
Fried Chicken
with all the trimmings... mashed potatoes & gravy, greens, corn, mac & cheese, biscuits and
sweet tea
.
I had just watched an episode of Paula's Best Dishes, where she made Bacon Pimento Mac & Cheese and decided to give it try.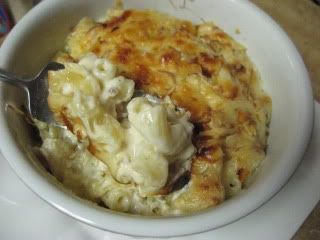 Bacon Pimento Mac & Cheese
6 bacon slices
1/4 cup (1/2 stick) butter
1/2 cup all-purpose flour
4 cups half-and-half
1/4 teaspoon ground red pepper
Two 8-ounce packages cream cheese, softened
One 4-ounce jar diced pimientos, drained
(I didn't use these)
1/2 teaspoon salt
Cracked black pepper
1 pound small penne pasta or macaroni, cooked, drained and kept warm
3 cups shredded smoked Cheddar
3 cups shredded Parmesan
Preheat the broiler. Spray five 1-cup ramekins with nonstick cooking spray.
In a large Dutch oven, cook the bacon over medium heat until crisp. Remove from the Dutch oven and drain on paper towels. Reserve 1/4 cup bacon drippings in the Dutch oven, and discard any remaining drippings. Crumble the bacon set aside.
Add the butter to the drippings, and heat over medium-high heat until the butter melts. Whisk in the flour, whisking until smooth. Whisk in the half-and-half, and cook until the mixture is thickened and smooth, whisking constantly.
Add the ground red pepper. Stir in the cream cheese and let melt. Add the pimentos and bacon. Season with the salt and pepper. Add 2 cups smoked Cheddar and 2 cups Parmesan.
Spoon the pasta mixture evenly into the prepared ramekins. Top with the remaining 1 cup Cheddar and 1 cup Parmesan. Broil until cheese is lightly browned, about 4 minutes. Let stand 10 minutes before serving.
~~~~~~~~~~~~~~~~
First, I shredded all of my cheeses.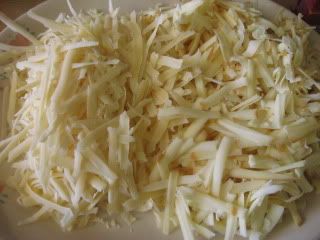 Fry the bacon.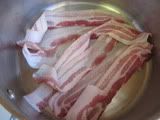 Set bacon aside.
Add butter to 1/4 C of bacon drippings.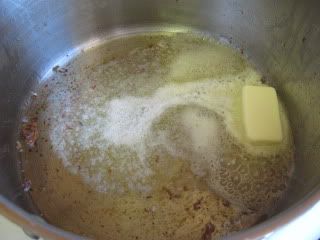 Whisk in flour. Whisk until smooth.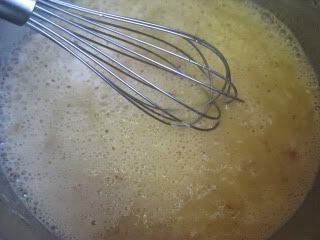 Whisk in half & half.
When that's thickened, add cream cheese & red pepper and stir until melted.
Stir in bacon.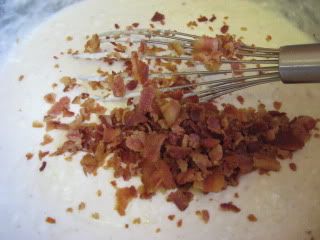 And 2 Cups of the Cheddar and 2 Cups of the Parmesan.
When that's all melted together. Stir it into the cooked pasta.
Spoon it evenly into ramekins and top with remaining shredded cheese.
Then under the broiler until golden & melty. (someday I'll have a stove that I don't have to lay on the floor to use the broiler!!!)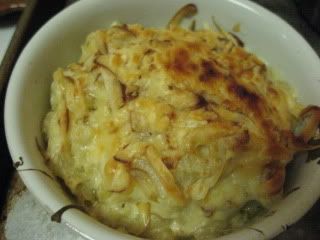 Time to enjoy!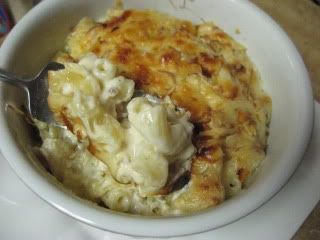 Now first let me say this recipe makes WAY more than indicated. It calls for 5 1-cup ramekins. I used 6 2-cup ramekins and still had lots left! So this totally feeds an army.
Second... I made it to go 'with' a fried chicken dinner. This mac & cheese IS dinner. Add a salad to this and you're done!
It's very rich. But it was really tasty.
It would be great on a cold night. Not that there's a cold night likely in our near future, unless you're reading this in Australia. And I don't know for sure how cold their winters get!
If you get a cold snap, this would be a nice dinner. Or just file it away until those crisp fall nights are upon us!