Yay!! I'm so excited!!!
Today is my very first Guest Post! AND it's by someone very special...
My Mom!
So without further adieu...
~~~~~~~~~~~~~~~~~~~~
Hi
I am Peggy's mom. Most of you probably know her as Marguerite or Spryte.
On a recent visit to Peg's house, we were having a dessert wine tasting party; so I suggested we make Swedish Tosca Cookies. They are an old favorite in our family. A little labor intensive but worth it for special occasions.
We have been making these cookies since Peggy and her sister Jeannie were in grammar school.
One of my oldest friends gave me the recipe in the 60's, and that was the beginning.
I was lucky enough to stay home with my girls. However, that meant that there was little extra money in our house. All of the cookies the girls had were home made. They would wish for Chips Ahoy, which they considered a treat!
In the 60's & 70's schools used to send home notices not to buy gifts for the teachers at Christmas.
So we would do some kind of hand made kitchen towel and cookies. The first few years there were only a couple of kinds of cookies, but over the years the numbers grew. Most of the time if a cookie made the list it stayed. I can only remember two that got cut out of the list. Cookies are still a large part of our holidays. We make about 8 different kinds and batches and batches of each. Now the cookies go to work and neighbors.
Over the years the tartlet tins required to make the cookies would disappear from the shelves and then a few years later reappear. It is my custom that when I give the recipe I give a box of the tins. The Swedish Tosca Cookie recipe uses one box of them.
I was recently asked to make them for the Christening of my great grandchild. When I said yes, they were surprised and thought I would only make them at Christmas time.
A little extra work, but always well received and fancy for showers or something special.
Peg's mom
~~~~~~~~~~~~~~~~~~~~
Yay!!! Thanks so much Mum!!!!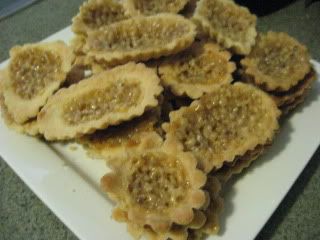 Swedish Tosca Cookies
Crust:
1 C + 2 Tbls butter
3 C flour
3/4 C sugar
Filling:
1 C finely chopped nuts
(we use walnuts)
3/4 C sugar
1/4 C + 2 Tbls butter
4 1/2 Tbls milk
2 Tbls flour
Crust:
Cream together butter and sugar.
Blend in flour.
Lightly spray tartlet tins with cooking spray.
Press dough into bottom and half up the sides of the tins.
Bake at 350F for 10 minutes.
Remove from oven.
Filling:
Combine all filling ingredients in a sauce pan and bring to a boil, stirring constantly.
Remove from heat.
Spoon filling into partially cooked cookies.
Bake for 10 - 15 more minutes.
When completely cooled, remove from tins.
You may have to loosen them a bit with the tip of a knife or wiggle the tin a bit.
You will need a set of 36 tartlet tins for this recipe.
My newest set is by
Norpro
(of course Mum gave them to me on a past Christmas)
So...
Make the crust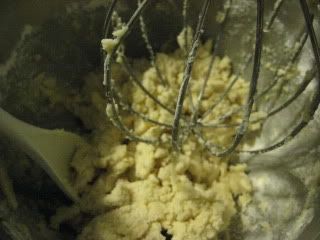 Spray or butter all of the tartlet tins.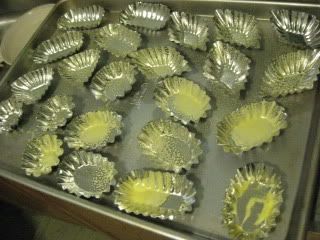 Press the dough into the greased tins. (Mum cranks these out so fast!)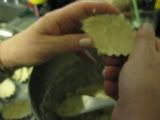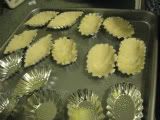 Bake for 10 minutes at 350F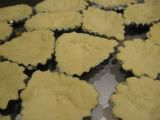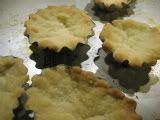 Combine all of the filling ingredients in a saucepan and bring to a boil.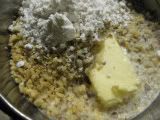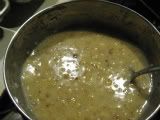 Spoon filling into partially cooled cookies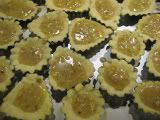 Bake 10 - 15 more minutes.
When completely cooled, remove from tins.
You may have to loosen them a bit with the tip of a knife or wiggle the tin a bit.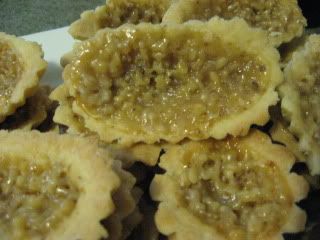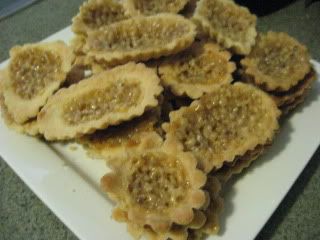 These are my FAVORITE Christmas cookies. I rarely make them, because I think they're a lot of work!!
So when I read Mum's post, I asked which cookies got dropped from the list. She said that a bar cookie similar to this one, but not as yummy was dropped right after it's debut. The other cookie she dropped was
Peppermint Kisses
. I just made them for the first time in ages this past Christmas.
Oh yeah! This is my mom at the Christening that was special enough for her yummy cookies!!
She's with my sister, my nephew and my adorable great-nephew Kai.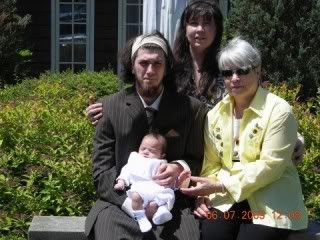 Mum... thanks so much for taking time to tell our Christmas cookie story and for baking my favorite cookies... YOUR cookies are definitely what I consider a treat now!!!
ETA: Ahahaha! To answer the whole name thing.... My parents are Catholic but they wanted to name me Peggy... but to Baptize me, I needed a saint's name.... Peggy is a regular nickname for Margaret (Marguerite). So they named my Marguerite to call me Peggy. When I was around 20, I decided Marguerite was a really cool name and started using it. =)
Old friends and family call me Peg or Peggy =)