Chocolate Ganache is something else I had never made.
I know most people love chocolate. (even though I'm not one of them)
I thought my family and friends would really enjoy it on top of
Mini Cheesecakes
.
This seems to be a basic Chocolate Ganache recipe that was repeated over & over online.
Chocolate Ganache
8oz bittersweet chocolate, broken into small pieces
1 C heavy cream
1 TBLS liqueur
In a double boiler, combine heavy cream & chocolate over medium low heat. Stir until chocolate is melted and well combined with cream. Stir in liqueur. Cool until still pourable. Now it's ready to use!
Combine chocolate & cream in double boiler over medium heat.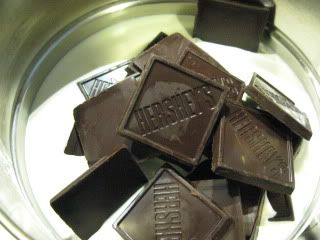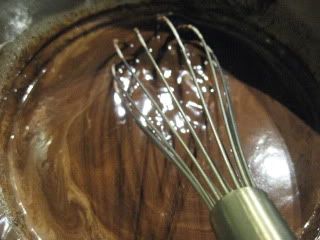 Stir in liqueur. I used Starbucks Coffee Liqueur.
Cool until still pourable and it's ready to use!
I topped
Mini Cheesecakes
with it.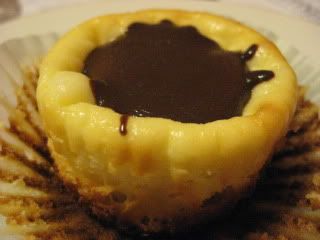 As with the
Lemon Curd
, I thought this was too bold for these cheesecakes. And again, opinions were split. Some really liked them topped with the Chocolate Ganache. So you just have to try it yourself!
Now since I only had 8 mini cheesecakes to top with ganache, I had quite a bit left. I stored it in the fridge and gently reheated it a couple days later.
I used it to top chocolate chip cookie bars and peanut butter cookie bars.
It was GREAT!!!