So not too long ago I was really surprised to find out that one of the guys in my office had never eaten quiche. When I asked him about it, of course he said, "Real Men Don't Eat Quiche".
Remember that book from the 80s? I had that and Real Women Don't Pump Gas.
I can remember my dad, defiantly eating his quiche, while proclaiming that "Real Guys DO Eat Quiche!" Also, my sister and I weren't allowed to get our drivers licenses until we could not only pump gas, but also change a tire and change our oil!
So... silly stereotypes never applied in our house!
I decided that I needed to show my co-worker, that in fact, Real Men DO Eat Quiche.
It took me a few weeks to actually get around to it, but that is precisely what I did today!
Last night I was going to make Mexican food for dinner again (3rd time this week!) I LOVE Mexican food and could easily eat it every day. But Tawny, while she does like it, would probably like it a whole lot better if I only served it once or twice a month.
She read my facebook status of "is thinking about making taquitos for dinner" to which she replied, "can you like not make mexican anythingg??"
So I figured if I made Taquitos for dinner, while also making a Quiche for work... Quiche that she wouldn't get a piece of, things would be pretty cranky at Casa de Spryte. So in the interest of keeping a
salubrious
atmosphere at home, I made a Quiche for dinner last night... and one for work this morning.
(Ya know... I made the taquitos too... and she had one! What the heck?!?!)
Anyway... A pretty standard quiche. Mostly based on my sister's recipe,
Jeannie's Little Quiches
, but I made a big one instead of little ones.
Ham & Broccoli & Swiss Quiche
1 pie crust, unbaked
1 TBLS butter, melted
4 eggs
1 C half & half
onion powder
garlic powder
salt & pepper
1/4 - 1/3 lb ham, diced or shredded
1 C broccoli florets, cut very small
1/2 C diced Velveeta
1 C shredded swiss cheese
Pre-heat oven to 425F
Brush pie crust with melted butter and refrigerate while prepping filling.
Chop ham, broccoli and Velveeta. Set aside.
In a medium bowl, whisk together eggs, half & half, onion & garlic powders, salt & pepper.
Evenly spread ham, broccoli and both cheeses in pie crust.
Then evenly pour egg mixture over fillings.
Bake at 425F for 10 minutes. Then turn the oven temp down to 325F and bake 25 minutes longer, or until crust is golden and filling is set.
Allow to cool 5 - 10 minutes before cutting.
Do you have any idea how long it takes to find a pastry brush in this drawer?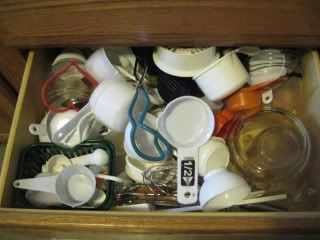 A very LONG time!!!
Brush the pie crust with melted butter.
You can make your own pie dough. I 'can' make dough, and it's pretty good; but I HATE working with dough. So more often than not, I buy one of the boxes of pie dough that you just unroll into your pie plate.
But I crimp it myself.
Pretty nice crimping huh?
Ok... so stick that in the fridge and get to your fillings.
Chop ham, broccoli & Velveeta.
Yes, I know it's processed cheese... but it's really really good in this!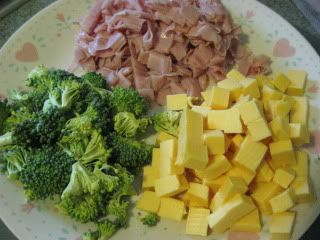 Also, this is the ONLY time that I use broccoli florets... and by florets, I really mean 'just' the tops. Most of my family hates broccoli stems.
I love them! They taste like broccoli (go figure). So typically I trim broccoli pretty short and Tawny & I munch on raw broccoli stems while I do whatever I'm doing to the broccoli. Ya know... they 'do' like broccoli slaw... what do think
that's
made of??
Anyway... get that stuff ready. And shred your swiss. I cheated and bought it already shredded.
Whisk up your eggs, half & half, onion powder, garlic powder, salt & pepper.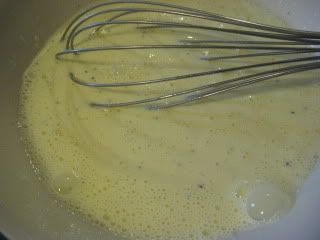 I didn't really measure the onion powder & garlic powder, I just sprinkled in a little of each.
Grab your pie crust from the fridge and put in all of your fillings.
Pour the egg mixture evenly over the whole thing.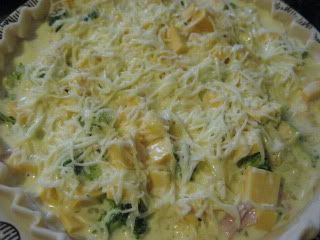 Now pop that into an oven preheated to 425F for 10 minutes.
Then turn it down to 325F and continue baking for 25 minutes or until crust is golden and filling is set.
So while it was in the oven... somehow Tawny or I started singing a song from Grease. So that prompted her to run to her room and grab her Grease soundtrack CD. We had 25 minutes of quiche baking time... plus I was making Taquitos that she supposedly didn't want (but still totally ate anyway!!). So we were singing Grease songs pretty loud. Neither of us is a very good singer and that drove Jon out of the kitchen pretty quick. There might have been a little dancing involved too...
We'll get some overhead lifters and some four barrel quads oh yeah
(Keep talking whoa keep talking)
A fuel injection cutoff and chrome plated rods oh yeah
(I'll get the money I'll kill to get the money)
With a four speed on the floor they'll be waiting at the door
You know that ain't no shit we'll be getting lots of tit
In Grease Lightning
Go, go, go, go, go, go, go, go, go, go
I could only tell you that because I'm pretty sure none of Tawny's friends read my blog... it probably wouldn't be "cool" to be singing and dancing in the kitchen with her mom... come to think of it... Tawny probably doesn't read my blog either. Well... now that I keep thinking about her... I'm sure her friends probably wouldn't be surprised.
Anyway...
So here's last night's quiche.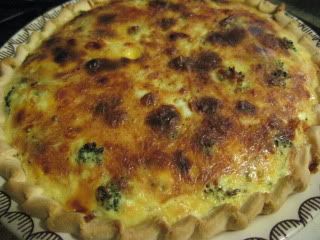 Don't mind the pumpkin pie recipe in the bottom of the pie plate...
Bob came into the kitchen and took a look at this.
He hadn't asked what was for dinner. If he had, and I'd told him we were having quiche, he would have opted to make himself something more to his liking. I know. We've played this game with quiche before.
But last night, with no questions, he came in and saw me taking pictures. He said, "There's ham & cheese in that? Can I have some?" "Dude! Of course you can!!"
I've told him over and over that he would love quiche. It's made entirely of things he loves. But no. Even after bites, no dice. I don't know what was different last night, but unsolicited, he asked for some, ate it and enjoyed it. He was a little disappointed that the
green stuff
was broccoli and not spinach. But it didn't slow him down. He just asked if I could put spinach in next time. Again I said, "Of course!".
Lilly however remains a quiche hold-out. Who knows, maybe next time will be her turn!
Now for the Co-Worker Quiche...
Recipe is the same. I cut everything last night, so I just had to throw it together this morning.
The only thing I did differently was during the baking.
I started off the same... bake in oven preheated to 425F for 10 minutes.
But then I only baked it for 15 minutes.
It sat on the counter for about 20 minutes while I finished getting ready for work. Then I covered it with foil and wrapped in a towel and brought it to work to finish baking.
There's a cool little kitchen at work that even has a stove & oven.
Isn't that cute... that's a little fridge on the right.
So I finished baking it for about 10 - 15 minutes in a 350F oven.
And here's the work Quiche
Now since Ed (the guy who said 'Real men don't eat quiche') was joking that maybe he shouldn't shave, so he'd be more manly eating quiche, I was thinking... maybe I should "man-up" the quiche a little... maybe serve it with steak? Hmmm... I'm not made of money... nah... Maybe bring a 6 pack of Iron City? Beer for breakfast! That's manly right? But my bosses might frown on that.
I decided to just serve it with fruit! Real men DO eat quiche! It doesn't matter what I serve it with!
My little prep area...
Freshly washed fruit... plates, forks, napkins...
Co-worker Quiche!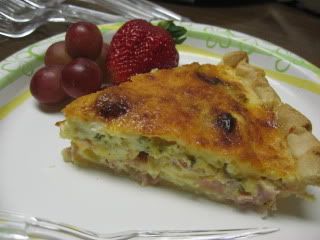 Everyone really liked it!!
I also found out Bill, one of the other guys I work with, had never eaten quiche either. He even asked for the recipe and sounded a little surprised at how easy it is to make.
Now both can attest that
Real Men DO Eat Quiche
!
Wow! I rambled on and on and on! Sorry about that!
Have a great weekend!