So last month when my mom was visiting, we had a wine tasting party. Last month's wine was Orange Muscat. Dessert wine. I have to say, I hate the dessert wine months. I'm not a big fan of desserts. I have them sometimes and I do have a few favorites, like Mum's Swedish Tosca Cookies. But over all... give me savories!
Anyway... serving all dessert is definitely not my favorite thing, so I served a couple of appetizers too.
It was pretty hot when she was here, and the thought of turning on the oven didn't thrill me. I stumbled across this Rachael Ray recipe and thought it was just what I was looking for.
First of all... even though it's called 'pie', it's really a big sandwich. I LOVE sandwiches!! Plus it's stuffed with TONS of stuff!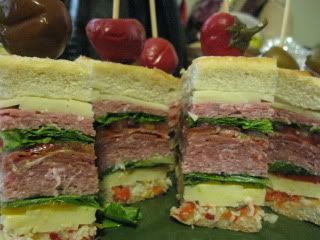 Rachael Ray's Antipasto Pie
1 (12-inch) round or oval, crusty, chewy bread, such as Tuscan-style or a sesame semolina
1 (14 to 16-ounce) jar giardiniera*, drained
1/2 pound thinly sliced sharp provolone
1 (14 to 16-ounce) jar roasted red peppers
1 (14-ounce) can quartered artichoke hearts in water, drained
(totally forgot these)
1 (12-ounce) bag mixed salad greens, any variety
(I chose the Italian mix)
1/2 cup (a couple of handfuls) fresh Italian flat leaf parsley leaves
15 to 20 leaves fresh basil, torn
1/3 pound sliced Genoa salami
1/3 pound sliced sweet soppressata
1/3 pound sliced cappacola
1/4 red onion, thinly sliced
1 vine-ripe tomato, thinly sliced
Extra-virgin olive oil, for drizzling
Coarse salt and pepper
8 hot or sweet pickled cherry peppers
(I needed 12)
8 (8,10 or 12-inch) bamboo party skewers
(I needed 12)
* Giardiniera is an Italian pickled salad of cauliflower, hot peppers and carrot found in International Foods aisle of market. It reminds me of the Italian version of the Spicy Pickled Carrots that you get at Mexican restaurants. Hmmm... now that I think about it... NO place around here has those carrots! Maybe I need to try making some... oh well... that's another day!
To start, slice off the top of the loaf of bread and set aside.
Hollow out the loaf and leave 1/2 on bottom and sides of bread to make a big bread bowl.
Next, drain the giardiniera and pulse in a food processor until you end up with a course relish.
Spread the giardiniera relish evenly into the bottom of the bread bowl. Then put in an even layer of provolone slices, topped with roasted peppers & artichoke hearts. Press down ingredients as you go to make room for everything.
Toss mixed greens, parsley and basil in a bowl. Add a layer of greens mixture and a drizzle of olive oil to your antipasto.
Next layer in the meats and remaining cheese. Then some more greens, onions and tomato slices. Drizzle with more olive oil and season with salt and pepper.
Replace the top of the bread that you sliced off and wrap your Antipasto Pie tightly with foil.
When you're ready to serve, skewer the cherry peppers and arrange them evenly through the loaf... like pie slices if a round loaf or like pictured before for a more oval/oblong loaf.
Slice into equal portions and enjoy!
~~~~~~~~~~~~~~~~~~
Ok... I couldn't find a round loaf, so I picked up a regular shaped Tuscan loaf.
Slice off the top and hollow out the loaf.
You can save the bread you pull out for bread crumbs.
Drain the giardiniera and pulse in the food processor to make a relish.
Spread giardiniera relish evenly in the bottom of your bread bowl.
A layer of provolone & roasted peppers
(and artichoke hearts if remembered them!)
Some greens (you can just barely see them sticking out from under the salami.
Some salami, soppressata, cappacola... then I just started layering with everything I had, in no particular order!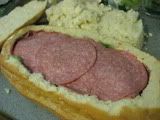 When you've used up everything you have... or just can't squeeze any more in, put the top back on and wrap it tightly and refrigerate until ready to serve.
Ok... ready to serve?
Skewer the cherry peppers. Actually... the cherry peppers were VERY seedy. I think next time I'd top these with pepperoncini instead.
Next I sliced it long way down the center and then between the skewers.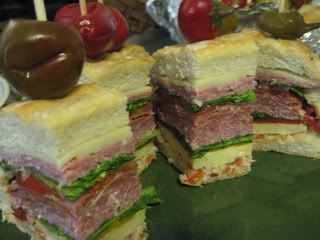 These were SO good!! They're a little hard to wrap your mouth around... but so tasty! I LOVED the giardiniera relish! I had never tried it before, but I'll definitely be using it again. It adds a zippy tangy flavor that I really enjoyed. You can change out the meats & cheeses & veggies in this ginormous sammie to suit your family's tastes. And it would travel very well to take along to a party or picnic.
Definitely a keeper!