I experimented with making some Sangria over the weekend. I'm making some for a special occasion coming up and wanted to get in at least one practice batch!
The one I made is pretty simple.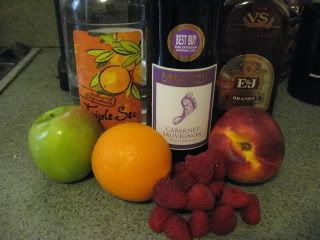 Sangria
1 bottle Barefoot Cabernet Sauvignon
1/3 C brandy
1/3 C triple sec
1 nectarine, sliced
1 granny smith apple, sliced
1 orange, sliced
1 big handful raspberries
7up
Pour all ingredients except 7up, into a large pitcher and refrigerate for several hours.
Add some ice to wine glasses, pour in wine mixture and top off with 7up.
The pictures aren't really great for this.
Everything except 7up into the pitcher.
Chill several hours.
Add ice to wine glasses.
Then wine mixture.
Check out that wine soaked fruit.
Top off with 7up.
So far, I haven't found a red wine that I like. But I do like Sangria.
This was pretty good.
I think I can probably find a better one. I have time to experiment a little more this weekend.
This would have been good over champagne or asti too!