When one of your kids wants to make you breakfast, how can you say no?
You can't!
When Bob first started 'cooking' it was always scrambled eggs. He'd ask everyone, daily, even guests, if they wanted him to make them some scrambled eggs!
On July 5th... after probably a year of no offers of scrambled eggs, Bob asked me if I wanted him to make me some scrambled eggs for breakfast.
Of course I said, "Yes!" Then after thinking about it for a second, I said, "How about if I show you how to make those scrambled eggs into Chilaquiles?" He said ok... even though he wasn't super thrilled with the idea. He prefers his eggs plain.
And really Chilaquiles only has eggs in it if you're eating it in Baja California, Mexico (or with me or my nephew
Damien
!)
I suggested it because I had plenty of
Smoked Beer Can Chicken
left from the day before.
So my shirtless little monkey got started, whisking up some eggs with red enchilada sauce.
While he was doing that, I cut up some corn tortillas and popped them into the oven to get crispy.
Eggs into a hot non-stick pan.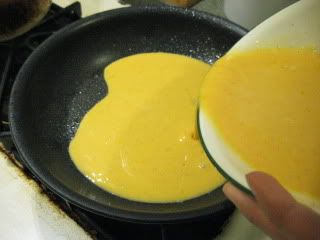 When they're cooked a little soft, add the leftover shredded chicken.
And continue cooking... (Bob's action stirring shot)
Add a big handful of toasted tortilla strips...
(more stirring action)
Add enchilada sauce to soften chips.
It's breakfast time!!
Thanks Dude!! Breakfast ROCKED!!