When my mom was visiting last month, I took her to
Penzey's
in The Strip. Every time I visit her, I bring her something from there. But I love bring her TO the store. Then she gets to open all the jars and smell all of the herbs & spices and make her own selections.
She bought a bag full of goodies. They always have their catalog available free at the store. I get it in the mail, but I didn't have the current edition yet. So Mum picked one up.
I love the Penzey's magazine because it's always filled with recipes. While flipping through this one, we saw Cheesy Tomato Bake and decided it would be a nice appetizer for a wine tasting party. (I'll post some wine reviews later)
Lots of the recipes in the catalog featured
Pasta Sprinkle
. When my catalog came in the mail, that's the free item for that catalog. I still have to go back and get mine. But their Italian Herbs is a very similar herb blend and worked out just fine in this recipe.
From Penzey's Spices Catalog, Harvest 2009, page 41
Cheesy Tomato Bake
1 onion, finely chopped
3 TBLS butter
(I only used one)
3/4 C sour cream
(I used light, but don't use Fat Free)
1/4 C mayonnaise
1 C shredded cheddar cheese
1 C shredded mozzarella cheese
1 1/2 tsp seasoned salt
1/2 tsp black pepper, freshly ground
3 tsp
Pasta Sprinkle
(I used Italian Herbs)
2/3 C milk
2 C biscuit mix
2 - 3 firm ripe tomatoes, slices
1 tsp paprika
1/4 C grated Parmesan cheese
Preheat oven to 400F.
Grease a 9x13 baking dish and set aside.
In a medium skillet, melt butter and saute onions until tender and golden. Move onions to a large mixing bowl and add sour cream, mayonnaise, cheddar and mozzarella cheeses, seasoned salt, pepper and 1 tsp of Pasta Sprinkle (or Italian Herbs) and mix well.
In a separate bowl, stir together milk and biscuit mix to form a soft dough. Stir in 1 tsp Pasta Sprinkle (or Italian Herbs) Knead 10 - 12 times. Pat dough into bottom of 9x13 baking dish and slightly up the edges to form a shallow rim.
Arrange tomato slices over dough. Spoon the sour cream and cheese mixture over the tomatoes, smoothing it to the edges. Sprinkle with paprika, remaining Pasta Sprinkle (or Italian Herbs) and Parmesan cheese. Bake at 400F for 25 minutes, until browned. Let cool 20 minutes before slicing and serving.
Great warm or at room temperature.
(I think this is much better warm)
~~~~~~~~~~~~~~~~~~~~~
Spread the dough into the 13x9 pan.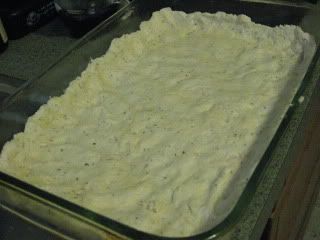 Cover with sliced tomatoes
Cover the tomatoes with the onion/cheese mixture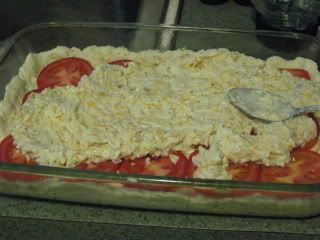 Sprinkle with herbs, Parmesan & paprika
Bake 20 minutes; until golden
Gooey cheesy tomatoey goodness!
While this was baking, it smelled like pizza. It had kind of a pizza flavor to it too.
I really liked it. But I did like it better warm than at room temperature. I liked it best warmed up in the toaster oven the next day!
Definitely a keeper!
Oh yeah... also in the Harvest 2009 catalog is
Cognac Cinnamon Blueberry Pie
. This looks like a great recipe for all of those yummy summer blueberries!