Normally if I'm making Chimichangas, I'd be using my
Smoky Mexican Chicken
and it would definitely be fried.
But I'm still trying to keeps things light at my house, so while the
Smoky Mexican Chicken
would definitely fit the bill... the frying definitely would not.
I think my spider cried a little... he's just been standing around in my Kitchenaid just waiting for the opportunity to dip into some hot oil and scoop out some yummy fried morsels.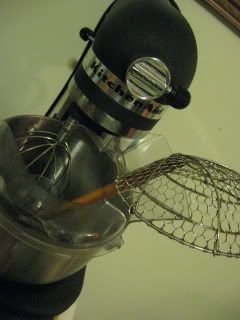 Not to worry, I'm not giving up frying, just frying a little less. But last night, there was no hot oil action for spider.
I've been talking about my new favorite cookbook
Foods and Flavors of San Antonio
. Right away I decided to make the Chicken Chimichangas found on page 16. I also knew I'd try baking them. I refuse to give up taste or texture for a healthier dish, so I had my fingers crossed that baking would ruin them. And it DEFINITELY didn't!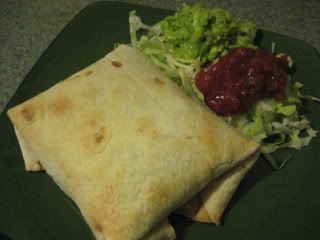 I changed the recipe slightly because I couldn't find any canned tomatillos and the refresh one looked decidedly less than fresh! My changes are in green.
Baked Chicken Chimichangas
2 lbs skinless chicken breast
1 dried chipotle chile
1/2 C onion, chopped
(I used less onion, since I replaced the tomatillos with tomatillo salsa)
4 cloves garlic, chopped
1 tsp cumin
(more cumin, because I really like it!)
1/2 tsp coriander
1/2 tsp cinnamon
1/2 tsp cloves
16 oz tomatillo salsa
(couldn't find decent tomatillos)
2 15.5oz cans pinto beans, drained & rinsed
salt & pepper to taste
8 10in flour tortillas
Optional but suggested garnishes: lettuce, salsa, guacamole
Place chicken breasts and dried chipotle chile in a large sauce pan add water until covered.
Cook 15 - 20 minutes, until chicken is cooked through. Shred chicken with forks and set aside.
Preheat oven to 450F.
Remove seeds from chipotle and dice chile.
In a large non-stick skillet, coated with cooking spray, saute onion, garlic and chipotle until tender. Add tomatillo salsa, cumin, coriander, cinnamon and cloves. Simmer 3 minutes. Add beans and shredded chicken. Cook until heated through.
Wrap flour tortillas in a slightly damp towel and microwave for 30 seconds, until pliable.
Place 3/4 cup chicken mixture in the center of a flour tortilla, fold sides in, then fold in top and bottom.
Place on a baking sheet coated in cooking spray. Repeat with remaining filling and tortillas.
Lightly spray tortillas with cooking spray. Bake 15 - 20 minutes or until golden and crispy.
Garnish with lettuce, salsa and
guacamole
.
Guacamole instead of sour cream... good fat instead of bad fat... plus it's a veggie!
~~~~~~~~~~~~~~~~~~~~~~
Throw the chicken in a pot with a dried chipotle or two, cover with water and 15 - 20 minutes until chicken is cooked through.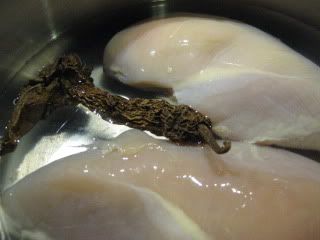 This was nice. The chicken had a really mild chipotle spicy flavor when it was cooked.
Shred the chicken with forks (or your hands if it's cooled enough)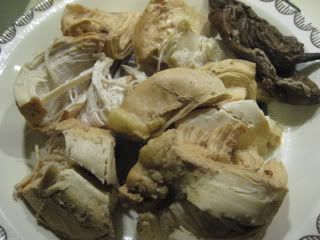 This time General Prang is interested in what I'm doing at the counter.
Saute the onions, garlic and chipotle until tender.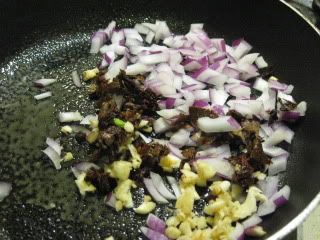 Add tomatillo salsa, beans & spices and cook a few minutes until they're heated through.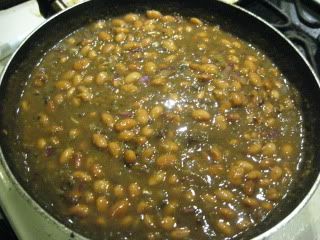 Then add the shredded chicken.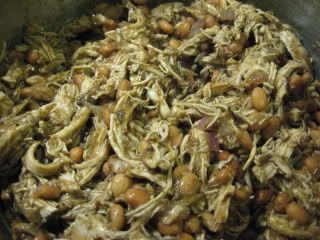 This smells amazing!! My recipe would typically smell like taco meat. But the addition of coriander, cinnamon and cloves gave it a completely different aroma. It kind of reminded me of mole.
Mmmmmm.... doesn't that look good?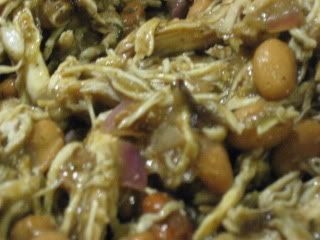 Now put 3/4 cup of chicken mixture into the center of each tortilla. (one at a time, unless you have a gigantic counter)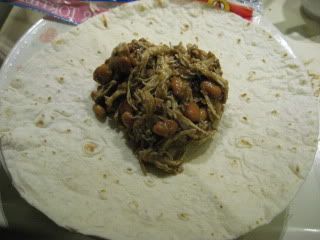 Now normally I'd roll this like a burrito. Definitely not an easy shape to fry. The instruction in the recipe said to fold the sides in, then fold up the top and bottom. You end up with a little pocket shape.
Here's where I veer away from the recipe. Instead of frying these, they get baked. (sorry spider... don't worry, there are still
Deep Fried Candy Bars
,
Lumpia
&
Chicken Wings
in your future!
Place the yummy little chicken packet on a baking sheet coated with cooking spray.
Repeat with remaining filling and tortillas.
Give them a light spray with cooking spray and pop them into an oven preheated to 450F. Bake 15 - 20 minutes or until golden and crispy.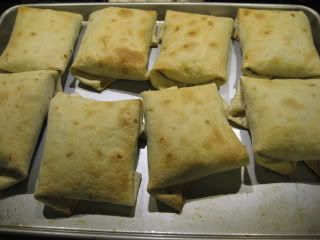 I garnished them with shredded lettuce, salsa and
guacamole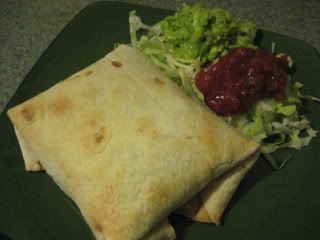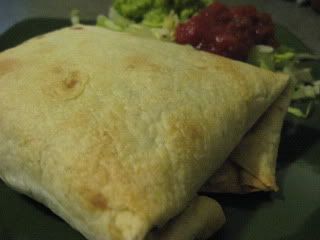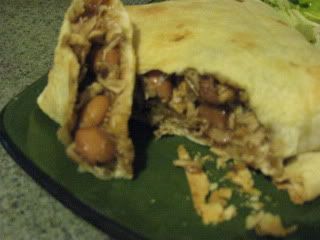 I spread the lettuce, salsa & guacamole on top before I started to eat it and it really had a restaurant flavor/feel to it.
Jon and Lilly and I really loved these. Tawny wasn't a big fan. So I asked if she liked my
Spicy Empanadas
. She said, "NO!! That's what these remind me of!"
If you like the empanadas, you will love these!
How did these fare compared to their full fat deep fried relatives?
Definitely two enthusiastic thumbs up!
Nutritional Info per serving (one chimichanga):
Calories: 468.2
Total Fat: 7.1 g
Cholesterol: 65.7 mg
Sodium: 1,322.5 mg
Total Carbs: 61.5 g
Dietary Fiber: 8.3 g
Protein: 38.7 g
Adding 2 TBLS of my homemade
guacamole
.
Calories: 44
Fat: 4 g
Carbs: 2 g
Fiber: 1 g
Protein: <1 g
Still a healthy low fat completely delicious meal!
We have 4 left from last night... I know we'll eat three tonight... who will get the last one?