Or Eggs In Purgatory... Uova in Purgatorio (Italian)... Shakshuka (Middle Eastern)... all pretty much the same... Eggs Poached in Tomato Sauce.
I'm not sure where this caught my eye, but I really wanted to try it.
For this you just need your favorite marinara sauce, eggs, toast and cheese.
My family used to be up for trying pretty much anything. Lately, they've been getting a little pickier.
Sunday morning when I asked who'd like to try this, I got no takers.
Since this ended up being just a serving for one, I didn't want to make a batch of sauce just to poach one egg. I decided to finish off some smooth tasty pizza sauce I had in the fridge.
I still wanted it chunky, so I cut up some grape tomatoes and mushrooms and tossed them in.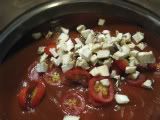 I also added a pinch of crushed red pepper and let it simmer.
Then I cracked the egg into bowl, being careful not to break the yolk.
And added it to the simmering sauce.
Now, here I
meant
to sprinkle them with Parmesan cheese and I totally forgot!
Simmer your eggs for 3 to 5 minutes... depending how cooked you want your egg yolks.
I served this on toast rubbed with garlic.
Since I've been watching what I each, I only had small, pretty thin bread on hand.
Next time, I'd opt for a thicker cut, crusty toast!
With a large spoon gently scoop the egg and some sauce onto your waiting toast.
I was also a bit flustered when I realized I'd forgotten the Parmesan and grabbed a 2% Italian 3 cheese blend from the fridge and sprinkled it on.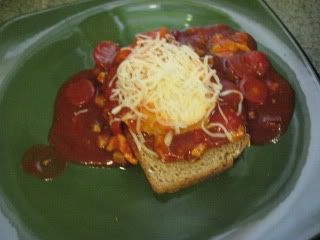 Then I melted it with my creme brulee torch. =)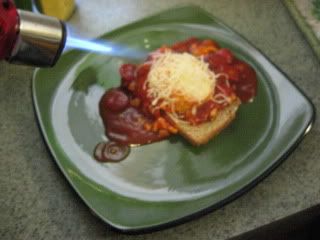 Garnish with a little flat leaf parsley and it's time to eat!
This was really good. And after seeing it, Jon decided it might not have been so bad after all.
Next time, I'll definitely use a spicy, chunky marinara sauce. I'll also use nice thick cut, crusty toast... and freshly grated Parmesan!
It would also be really good served over cooked pasta or creamy or baked polenta.
I will be making this again in the near future!