I got Foods & Flavors of San Antonio a couple weeks ago from Heather over at
girlichef
.
I posted about it
HERE
. Did you get your copy yet?? I'm sure most of you are eagerly awaiting it's delivery!
Anyway... this is my first time participating in
Second Sunday
. Every month a new recipe is chosen from Foods & Flavors of San Antonio and everyone makes the recipe as written, or with their own spin.
This month's recipe is San Antonio Chicken. I had planned to make Chicken Chimichangas tonight, but saw the new Second Sunday recipe was up and decided to join the fun!
Stay tuned... Chicken Chimis will definitely show up here in the very near future!
Without further adieu...
I tweaked this recipe just slightly. My changes/additions are in
green
.
I added the
chipotle
, because I remembered it from the chimichanga recipe and opened the can, before re-reading this recipe.
Plus a large clove of
garlic
... just because I felt like it.
I swapped the bell pepper for a
poblano chile
, because Jon doesn't really like bell peppers.
I swapped out the black beans for
pinto beans
, because we don't really like black beans.
Extra pimentos
... again... my lack of reading the recipe.
I used
chunky salsa
... what
is
picante sauce?

San Antonio Chicken
* 2 skinless, boneless chicken breasts
* 1 (1.25 oz.) package taco seasoning
(one chipotle chile)
* 3 T. water
(from cooking chicken)
* 2 - 3 T. vegetable oil
* 1 medium onion, coarsely chopped
1 large clove of garlic, minced
* 1 green bell pepper, coarsely chopped
(poblano pepper)
* 1 cup frozen corn, thawed
* 1 (2 oz.) jar pimientos
(4oz)
* 1 (15 oz.) can black beans, drained and rinsed
(pinto beans)
* 3 cups hot cooked white rice
* 1 cup picante sauce
(chunky salsa)
Place the chicken
and chipotle chile
in a saucepan and cover with water. Let
simmer for 10 to 15 minutes or until the chicken is cooked
through. Remove to a cutting board and coarsely chop the
chicken and
chile
.
In a medium-size bowl, toss the cooked, chopped chicken with
the taco seasoning mix and
3 TBLS of water that the chicken was cooked in
. Set aside.
Heat the oil in a 12-inch skillet over medium-high heat. Add
the onion,
garlic
,
green bell pepper
poblano chile
, and corn. Saute until tender.
Add the pimientos,
black beans
pinto beans
, chopped chicken, rice, and
picante sauce
chunky salsa
. Stir to mix and heat through.
~~~~~~~~~~~~~~~~~~~~~~~~~~~~~~
Cook the chicken and coarsely chop it.
Toss chicken with some water from cooking the chicken and taco seasoning.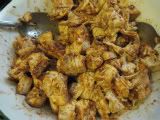 Saute the onions, garlic, poblanos, chipotle and corn until tender.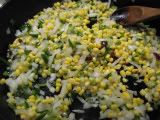 Add pintos, chicken and pimentos and toss.
Add rice and salsa, mix well and heat through.
Dinner time!
This was really tasty! Everyone really enjoyed it and I'll definitely be making it again!
Wanna play too? Head over to
Second Sunday
!