I LOVE these spicy and sweet empanadas. I don't make them very often, but they are often requested.
I had a wine tasting gathering at my house on Saturday night. January's wine is Riesling. Since they say it pairs well with spicy foods, I thought these would be perfect.
Empanadas
Empanada Dough (or your own pie dough)
2 C flour
1/2 C lard
2 1/2 TBLS unsalted butter
1/2 tsp salt
1/2 C ice water
EMPANADA FILLING
1 lb ground beef or ground pork (I used 1/2 & 1/2)
1 onion, chopped
2 cloves garlic, chopped
1/3 C almonds, toasted,chopped
1/3 C raisins
8 plum tomatoes
24 serrano peppers
2 limes, juiced
1 1/2 tsp salt
1 tsp black pepper
1 tsp cumin
1/8 tsp cloves
1/8 tsp cinnamon
egg wash
FOR DOUGH:
Put flour and salt in food processor, pulse to combine.
Add cold lard and butter, pulse to form crumbs.
Add water and pulse until it just comes together.
Chill at least 30 minutes.
Roll out and cut out circles.
Preheat oven to 400F
FILLING:
Saute meat, drain fat.
Saute onions for 2 minutes, add garlic, almonds and raisins and saute for 2 minutes more.
Place tomato, chilies, lime juice, salt and pepper in blender.
Puree until smooth.
Add puree, cumin, cloves, cinnamon meat and onion to skillet.
Cook 5 minutes or until excess liquid evaporates.
Cool. Fill pastry circles, fold and crimp with fork.
Brush with egg wash.
On parchment lined baking sheets, bake 10 minutes or until golden at 400F.
After eggwash and before baking these can be frozen.
Bake frozen empanadas for 20 minutes at 400F.
~~~~~~~~~~~~~~~~~~~~~~~~~~~~~~
I used a combination of beef and pork
When that's all browned, add the onions and garlic
Then add the raisins and almonds and let it simmer
Next onto the veggies... you make kind of a salsa to mix with the meat.
I only used half the serranos and I seeded them, since I knew I had a guest that doesn't like it spicy. (actually they are still really spicy!)
I couldn't find any decent plum tomatoes, so I just used stem tomatoes because they looked nice.
Everything into the blender wit lime juice.
Yeah... I have an Oster Beehive Blender which totally liquefied the chili peppers & tomatoes.
I no longer have a food processor. When I got my Kitchen Aid last year for my birthday. I got rid of my sturdy reliable Oster Kitchen Center... and my food processor and blender were in that mix. I LOVE my new blender... but it's definitely for things you want smooth! Sooooo I guess I'm in the market for a new food processor now! Anyway....
I was afraid I'd killed the empanada stuff! Will this be marked FAIL? We'll see...
So I poured my chili/tomato/lime soup into the meat
And added the spices (cinnamon/cloves/cumin/salt/pepper)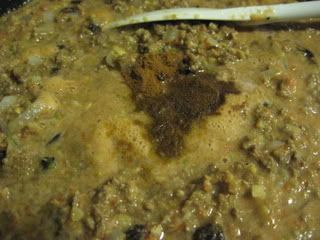 I hoped to cook out the liquid...
It did cook out slowly...
And was finally not soupy anymore.
Now I can make up the empanadas!
I used prepared pie dough (I really hate making dough)
Cut out 3 - 4 in circles and put about a tablespoon of filling in the center.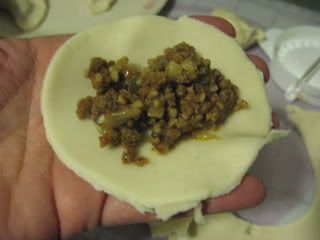 Just fold it in half and crimp the edges shut.
Brush them with an egg wash (1 egg whisked with 1 TBLS water)
Bake at 400F for 10 minutes or until golden.
YUM!!! There is just enough sweet to balance out the spice!