I mentioned before that we're trying to lighten up at my house.
We've been grilling a lot of chicken.
This looked like a tasty recipe from
Cooking Light
, so I tried it out a week or so ago. I tweaked most of the quantities, but the ingredients are mostly the same.
Chicken Souvlaki
2 - 3 lbs skinless chicken breast, cut into 1 inch pieces
6 TBLS lemon juice
1 TBLS fresh oregano, chopped
1 TBLS olive oil
6 cloves garlic, minced
Combine lemon juice, oregano, olive oil and garlic in a large plastic ziplock bag.
Add chicken pieces.
Squish it around so the marinade really gets to all of the pieces of chicken.
Refrigerate for 30 minutes.
If you're using wooden skewers, they need to soak for 30 minutes in water.
Thread the chicken onto the skewers and grill about 8 minutes, turning the skewers as they cook.
You can find my Tzatziki Recipe
HERE
.
Fresh lemon juice makes such a difference.
But bottled is fine, if that's all you have.
(it's often all I have!)
And again... I can't help but smile when I go to my herb garden to fetch herbs for whatever I happen to be putting together.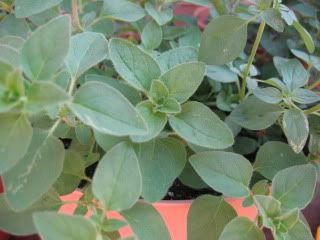 Mix the lemon juice, oregano, olive oil, and garlic in a plastic bag.
As you can see... I dirtied a bowl by mistake!
Now add the chicken to the bag and squish it around so it's all mixed up really well.
Pop that into the fridge for 30 minutes.
Then thread them onto skewers.
Obviously, feel free to add veggies between the chickens if you like.
If I was just serving the shish kabobs, I would have added veggies. But I was serving them in flat bread... and I always stuff them too full!
Now it's grillin' time!
Only charcoal at my house!
I AM the grill master! Ok... just the grill master at my house.
But for YEARS the grill was very intimidating to me. Then we went to a Cinco de Mayo party a few years ago, at the house of one of Jon's former band mates and I watched Steve grill all day. He truly IS a grill master! Something clicked that day. Suddenly it wasn't intimidating anymore. And I do pretty well!
Anywayyyy.....
Throw those shish kabobs on the grill.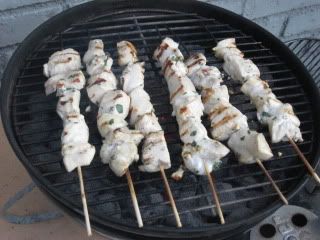 Oh yeah!
Slather your favorite flat bread with
Tzatziki Sauce
and some lettuce, tomatoes and onions. (or whatever you like on a sammie)
Add some of that gorgeous grilled chicken.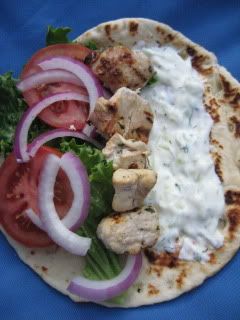 Fold it up and it's time to eat!!!
The chicken tastes so fresh marinated in the lemon juice with oregano and garlic.
So delicious with the tangy, creamy (and entirely fat free)
Tzatziki Sauce
you forget it's totally figure friendly!