One day last week, I wanted to make my usual Chicken Tortilla Soup. There's no exact recipe for it, but it typically contains chicken (duh), taco seasoning, corn and of course crunchy tortilla strips.
I really didn't want to go to the grocery store. But sadly, I had no taco seasoning and no corn. The only chicken I had was the pre-cooked, pre-seasoned chicken strips. I like to keep them on hand to crank out some quick quesadillas or panini.
Anyway, the soup is typically pretty healthy, so I really wanted it for dinner.
My friend Michele over at
My Italian Grandmother
has been putting together 'pantry meals'; Meals made up of what you have on hand. So I headed to the pantry!
I knew I had the chicken.
I had no corn (how the heck did that happen??), but I found a can of hominy. I bought hominy for something else, and ended up with an extra can. I didn't really care for it the first time and meant to donate it to a food drive. I guess that didn't happen. But I needed a veggie and all I had on hand was frozen peas, and they just didn't seem right.
I had no taco seasoning and although I have a VERY well stocked spice cabinet, I was just too lazy to make taco seasoning, so I used chunky salsa instead.
Broth... open box of veggie broth in the fridge... check... oops, not quite enough, I'll fill it out with chicken broth.
I found a can of pinto beans in the pantry... those would work!
Plus of course cumin & epazote (my new fav Mexican herb)
And I always have all kinds of tortillas.
I found the fixins for a pretty nice soup!
I ended up with this!
Chicken Pinto Tortilla Soup
3 C veggie broth
1 C chicken broth
6 oz chicken, cooked, cut into bite-sized pieces
1 can pinto bean, drained
1 can homini, drained
1 C your favorite chunky salsa
1 tsp dried epazote (or cilantro or oregano)
1 or 2 tsp cumin
Smokey Chipotle Tabasco, a few good shakes
4 corn tortillas
cooking spray
kosher salt
Preheat oven to 450F
Combine first 9 ingredients in a soup pot.
Simmer 20 minutes.
Cut tortillas into 1/2 in strips, spread out on a cookie sheet in a single layer.
Spray with cooking spray and sprinkle with kosher salt. Toss and rearrange back to a single layer.
Bake until lightly browned.
Sprinkle tortilla strips over bowls of soup.
Garnish with cilantro, cubes of avocado, or reduced fat shredded cheese.
Nutritional Info per 2 Cup Serving
Calories: 324.7
Fat: 3.5
Carbs: 53.3
Protein: 17.9
~~~~~~~~~~~~~~~~~~~~
I keep these on hand. Not necessarily this brand, just whatever is onsale.
I cut them into cubes
And tossed them into the stock pot with everything else and let it simmer.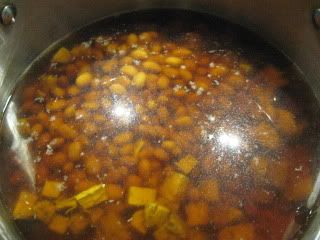 Meanwhile, I was making the tortilla strips.
Cut corn tortillas into strips and spread them in a single layer in a baking sheet.
Give them a little spray with cooking spray and a sprinkle of salt.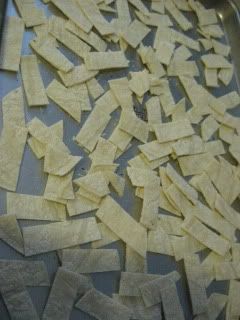 Then into the oven until lightly browned.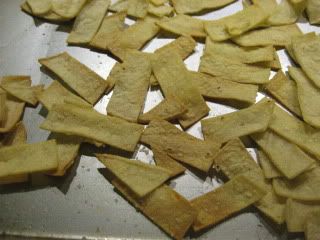 Sprinkle them on top of your soup!
Or use them for chips... or put them in a burger... this time, they were sprinkled on soup.
And a little fresh cilantro.
Avocado cubes would have been great... but I didn't have any!
But it was a light tasty soup that everyone really enjoyed. I really liked the hominy in the soup. It's like fluffy corn. I know know why I didn't care for it the first time!
The best part was that I didn't have to make a trip to the store!