So this blog is 'Just what's going on in my kitchen".
And every once in a while... it's Shake-n-Bake Pork Chops, Rice-a-Roni, Stove Top Stuffing, a Veggie (canned) and some kinda ready made Biscuits/Dinner Rolls!
One day last week was one of those days!!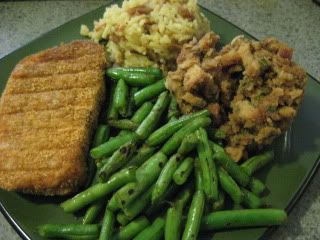 My family LOVES these days!!!
We had fresh green beans... and no biscuits/bread... so it was a little better.
They often try to talk me into Cheesy Hashbrowns Hamburger Helper too!!
The Hamburger Helper days only happen once every couple of years (if they're lucky... or unlucky... I guess it depends on your POV!)
Every once in a while... that stuff is great!!
Dinner ROCKED!!!