One of the few things I miss about living in Southern California is Carne Asada!
I loved to drive through Robertos, Jilbertos, Albertos... any of those wicked good drive through Mexican places. Mmmmmm Carne Asada Burritos, the size of your arm! Guacamole & Onions? YES PLEASE! Mmmmm... it took me forever to figure out that the onions on those burritos were just onions in lime juice w/cilantro. But man, does that make a differnce! YUM!
I found a recipe for Carne Asada by
Tyler Florence
. His
Mojo Marinade
is awesome on Flank Steak!
I've been dying for Flank Steak since I got an electric knife and a cast iron grill/griddle for Christmas. So last week... Flank Steak was on sale... and I decided it was time for some Carne Asada!!
For the Mojo Marinade you'll need...
4 garlic cloves, minced
1 jalapeno, minced
1 large handful fresh cilantro leaves, finely chopped
Kosher salt and freshly ground black pepper
2 limes, juiced
1 orange, juiced
2 tablespoons white vinegar
1/2 cup olive oil
(I usually add cumin to this and totally forgot)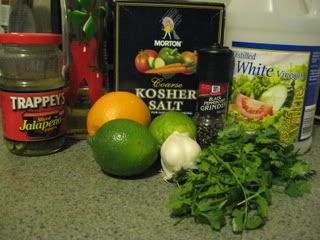 (yeah... I found out I had used all of the jalapenos from my garden... so I just diced up some Trappey's)
The night before, I minced the garlic & jalapeno & cilantro and whisked it with the lime juice, orange juice, vinegar, olive oil, salt and pepper.
I put that in the fridge. You don't have to make it the night before. But I don't have a lot of time before I leave for work in the morning, so I wanted to be able to just drop my steak in before work.
Then I made my Onion Relish. I diced the onion & chopped some cilantro and juiced a couple of limes.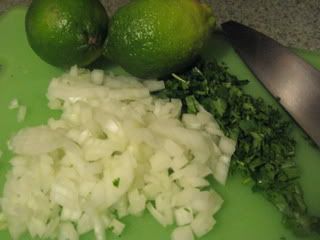 I shook it up in a mason jar and put that in the fridge too.
The next morning... I dropped my flank steak into the Mojo Marinade in a FoodSaver container.
(mmmm.... isn't that beautiful??)
Flip it over to get it all covered.
Vacuum seal and back into the fridge before I head out the door.
Home from work... I took the steak out of the marinade to let it warm up a little before I put it on the grill.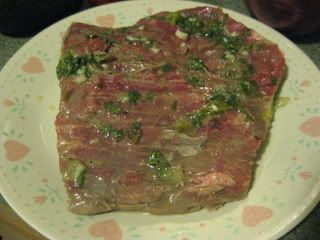 Onto a preheated grill! *sizzle*
Oh yeah... grill marks baby!!
Woohoo!!! The best grill marks I've ever made!!
Let the steak rest for about 5 minutes before cutting it.
Mmmmmm Carne Asada!!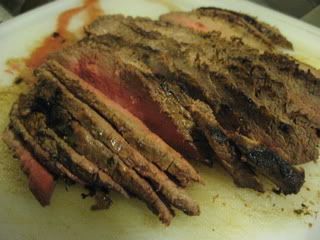 Time for tacos!!!
With some Onion Relish,
Guacamole
, Diced Tomatoes and a little Cilantro... mmmmmmm
Add some
Mexican Rice
and
Refried Beans
.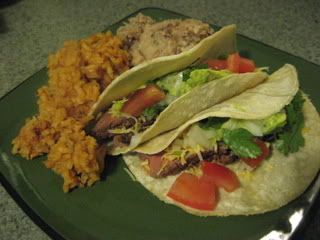 These were the BEST tacos I've ever had!!