OK, this could look like a late Christmas Cookie post... but really, I use this recipe all year 'round. I have two big Rubbermaid underbed storage containers that are filled with cookie cutters for every holiday or occasion (or non-occasion) you can think of.
Maybe I should have taken a picture of my collection; but I keep in with my kitchen stuff in the cellar (since my actual kitchen storage space is extremely limited) and I'm way too lazy to go all the way downstairs to snap the pic right now. So it's just actual cookies!
Mum's Cut Out Cookies
2 1/2 C flour
1 tsp baking powder
1 tsp salt
1 C sugar
1/2 C shortening
1/4 C butter, softened
2 eggs
1 tsp vanilla
In a medium bowl, whisk together flour, baking powder, and salt.
In a mixing bowl, cream together shortening, butter and sugar. Add eggs and vanilla and beat. Add dry ingredients and mix well.
Refrigerate dough over night.
Pre-heat oven to 400F.
Roll dough out on a lightly floured surface and cut with your favorite cookie cutters.
Place on parchment paper lined cookie sheet. Decorate with colored sugars, jimmies and/or any edible decorations you like.
Bake for 6 minutes at 400F.
Cool on rack.
Enjoy!
~~~~~~~~~~~~~~~~~~~~~
This year, I let each of the kids invite a friend over to decorate cookies. I made a double batch thinking they'd really be into it. Well.... they lost interest quickly... so that meant that I had to finish decorating, which would have been fine if we didn't have company coming for dinner that night. I cranked them out anyway!
The fresh dough is pretty gooey
Wrap it up and put it in the fridge overnight.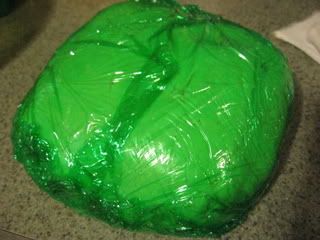 Here's our messy decorating table... plus I was missing quite a few of the standard decorations I like to have on hand (my kids tend to dump them on top of ice cream!!)