I LOVE refried beans. Again... something I'd always just opened up a can and jazzed up a little. (lime juice & green chilies were my secret ingredients!)
I used KathyK's
recipe
on
BakeSpace
as a guideline.
Refried Beans
2 15oz can of pinto beans, drained & rinsed
2 TBLS olive oil
1/2 white onion, diced
2 cloves garlic, minced
2 tsp cumin
2 - 3 TBLS lime juice
3/4 C chicken broth (more or less)
2 tsp dried cilantro
salt & pepper to taste
In a medium skillet, saute onion & garlic in olive oil.
Add drained, rinsed pinto beans.
Heat and gently mash beans with the back of a spoon.
Add cumin, cilantro, lime juice and some of chicken broth. You can also use veggie broth to keep this vegetarian.
Add as much broth as you like to get beans to the consistency you like.
Top with cheese and these are ready to accompany your favorite Mexican entree or co-star in your favorite burrito!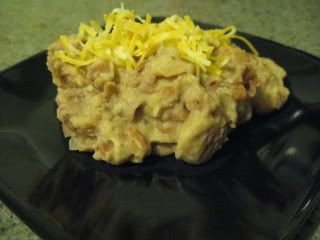 Enjoy!